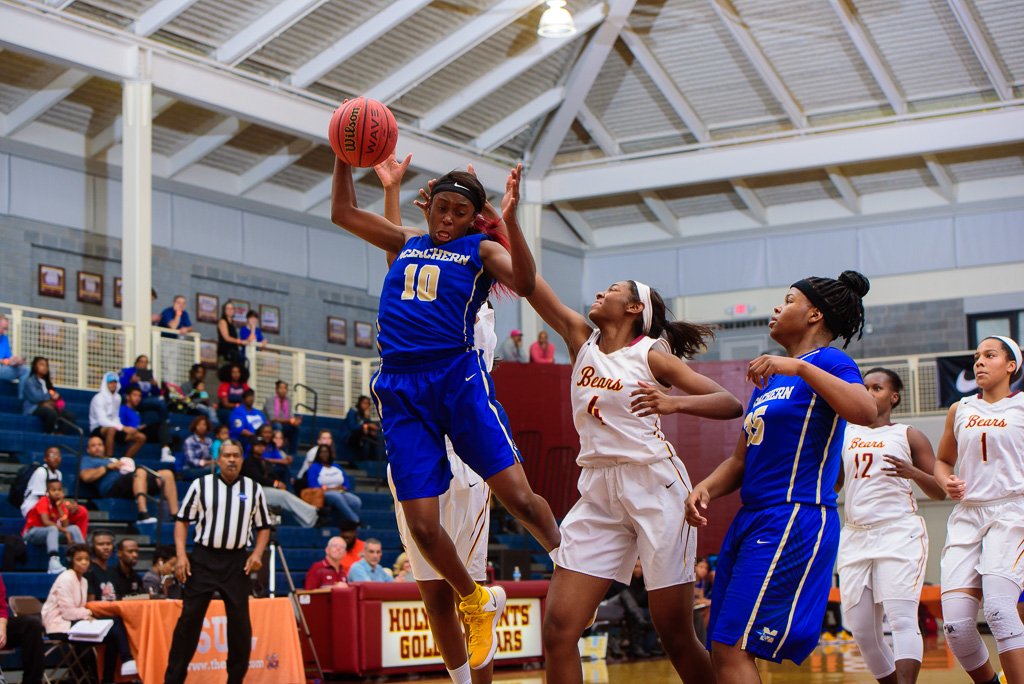 Gwinnett's back after last year's disappointing playoffs when only Parkview advanced to the Elite 8 and not a single Gwinnett school reached the Final Four. This year, Collins Hill, Norcross and Archer occupy three of the Class 7A semifinal spots alongside three-time defending state champion McEachern of Cobb County. Collins Hill and Norcross square off in Saturday's opener. Norcross avenged last postseason's 39-37 second-round exit to Westlake with a 57-44 win over the Lions Tuesday night and increased its winning streak against instate opponents to 25 games. Five-time state champion Collins Hill advanced to the semis with a 57-46 road win over Region 5 champion Lambert on Tuesday. Although the schools haven't met this season, Collins Hill and Norcross faced three times last season with the Eagles taking their first meeting 57-54 in overtime, and Norcross taking the next two 55-45 and 41-36. Speaking of familiar opponents, McEachern and Archer have now crossed paths in each of the past four postseasons. The Indians clinched the first of their three-straight state crowns with an 81-62 win in the 2014 finals. In 2015, McEachern escaped the semifinals with a 59-57 win over Archer before topping Norcross 58-51 in the championship. Last year, McEachern sent the Tigers home with an 87-49 second-round victory. McEachern, Norcross and Collins Hill have combined for 12 of the past 16 state titles in Georgia's highest classification.
Class 6A
Audrey Jordan gave Harrison its first seven points in the Hoyas' 73-63 win over Douglas County in the quarterfinals. Jordan finished with 21 points, one shy of teammate Raicheal Tringali's game-high 22 points. Sydne Williams added a 14-point performance in the victory and the Hoyas celebrated their first-ever trip to the semifinals. Harrison's opponent Northview hasn't lost to an instate opponent since November 21st and has won its last 26 games against Georgia schools, including Tuesday's 65-46 win over Stephenson. Shannon Titus and Ashlee Austin lead a deep cast of Titans and each average 14 points per game. Austin is a 6-foot-2 sophomore that has led the team with nine rebounds per game. Titus and Austin are aggressive when it comes to getting to the foul line and can consistently take control of the game as a one-two combo. Featured in the backend of Saturday's girls semifinal double-header, is Mays which comes off a 65-51 victory at Winder-Barrow to face a Lovejoy team that advanced to the Final Four Wednesday night with a 63-52 win over Chattahoochee. Mays' last state title came in 2003, while Harrison, Northview and Lovejoy are still in the running to take home their program's first-ever state championship.
Class 5A
Southwest DeKalb's run for back-to-back titles and the program's sixth all-time championship takes the Panthers to Columbus State University to tip off Class 5A's action with Flowery Branch. Flowery Branch, led by the outside shooting of Lexie Sengkhammee and the inside game of Taniyah Worth, reached the semifinals for the first time and snapped Carrollton's 18-game winning streak with a 61-46 victory on Tuesday.Southwest DeKalb nearly netted a season high point total with its 71-56 win over Eagle's Landing in the quarterfinals. Senior Jada Walton finished with a game-high 27 points and 6-foot-3 senior center Ogheneruona Uwusiaba finished with six points to go with her 11 rebounds. Top-ranked Griffin (28-1) and No. 2 Buford (27-2) present an epic semifinal showdown across the bracket. Griffin is led by the inside presence of Cincinnati signee Andeija Puckett, who averages 17.1 points and 10.4 rebounds per game. After winning its first two playoff games by 36.5 points per game, Buford ran away with a 77-56 victory over a talented Warner Robins squad in the quarterfinals on Tuesday. The Wolves were down 9-2 in the first quarter before storming back with the help of Rachel Dobb's three-point shooting. She hit a trio of three-pointers in the first quarter and finished with five threes overall. By the half, Buford was leading 40-27 and Tori Ocment had 22 points and Marissa Bruce had 17 to fuel the victory.
Class 4A
Columbus and Sandy Creek will pack Saturday's opener with speed and prolific scoring. Columbus is led by 6-foot-3 senior Tatyana Wyatt, who has poured in 22.2 points per game to go with 6.7 rebounds. Wyatt is an 81 percent free-throw shooter and has outside range that makes her a scoring threat on every possession. Ariyah Copeland adds another 6-foot-3 scorer that Sandy Creek must match up with and she turns in 16.4 points per game and a team-high 9.5 rebounds per game. Sandy Creek has Shanquaylia Stanton, Kasey Toles and freshman Daija Powell as double-digit scorers to push the pace. The second semifinal girls matchup pins Carver-Columbus against Cross Creek. The Razorbacks are coming off a 76-52 win over Henry County that showcased the depth that has driven Cross Creek's 26-4 season. Alana Davis (17), KymMya Thomas (15), Kianna Westbrook (14) and Jada Sampson (10) all scored in double figures in Cross Creek's quarterfinal victory. Carver-Columbus rides a 10-game winning streak into the finals and has relied on a relentless defensive effort that has produced 15.6 steals per game this season. Junior Alycia Reese and Mariah Igus lead the Tigers with 13 points per game each, while five different players average more than two steals per game.
Class 3A
Beach, who has been ranked No. 1 or No. 2 all season, was not challenged until the quarterfinals against Central-Macon as they outlasted the Lady Chargers in overtime, 46-45. The Lady Bulldogs are led by senior guard Judasia Hills, who is averaging 11.8 points, 6.4 rebounds, and 2.7 steals per game. Freshman Madison Evans has come up big for Beach, averaging 11.3 points, 3.3 steals and 2.6 rebounds and 2.1 assists per game. On the other side of the bench, Greater Atlanta Christian has yet to be challenged in the tournament. The Lady Spartans moved past Cedar Grove 72-43 in the first round and then beat Cook County by 50 points (84-34) in the second round. GACS is led by Robyn Benton, Tamiah Lewis and Taylor Sutton. Benton, a 5-foot-8 junior guard, is averaging 16.8 points, 5.5 rebounds and four steals per game. Lewis, a 5-7 senior combo guard, is averaging 13.9 points, 2.2 assists and two rebounds per game. Sutton is adding 12.2 points, 3.7 assists, and three steals per game. On the other side of the bracket, defending champion Morgan County will face Johnson-Savannah. Morgan County came out on top in last year's final game against Jackson-Atlanta with a 68-61 win, which marked the second state title for the program (the first came in 1983.) Morgan County defeated Johnson-Savannah 65-49 in last year's semifinal game.
Class 2A
The Class 2A Final Four presents a wide open field with 2015 Class 3A state champion Laney and a trio of teams (Model, Rabun County and Bleckley County) that are a pair of wins away from claiming their first-ever state titles. Laney enters Class 2A after a successful run in Class 3A that ended last year with a 62-53 loss to eventual state champion Morgan County. Now, the Wildcats put a 27-game winning streak on the line against Model, which cruised to the Region 7 title before using a 25.3-point average margin of victory in the postseason to reach the semis. Laney junior De'Sha Benjamin averages 19.8 points per game and leads the team in made three-pointers and free-throws. The backend of the girls double-header stages a contrast of styles between Region 3 champion Bleckley County and Region 8 champion Rabun County. Bleckley County used single-digit victories in each of the past three rounds to keep its season alive, while Rabun County has lit up the scoreboard with a 73 points per game average and 22.7-point average margin of victory. Bleckley County's season-high point total came in a 66-48 win over Dublin, while Rabun County has scored at least 70 points 17 times this season and has surpassed the 80-point mark four times. Expect Rabun County to push the pace, while Bleckley County looks to turn this into a half-court game.
A-Private
St. Francis took care of Pinecrest Academy 77-35 in the quarterfinals to punch its ticket to face Holy Innocents' in the Final Four. The Lady Knights, with a record of 26-2, have put together a 19-game win-streak since its 77-72 loss on Dec. 22 to Mercer County, KY. Maya Dodson, a 6-foot-1 guard, is leading all scorers with 14 points, seven rebounds and three blocks per game. Kasiyahna Kushkituah, a senior 6-foot-3 center, is scoring 13 points and getting eight rebounds per game. Nichel Tampa is letting her offensive presence be felt with 11 points, five assists and four steals per game. Holy Innocents', which won its first two rematches of the 2016 finals dropped a 59-50 matchup with Wesleyan in the region championship. Since the loss, the Lady Golden Bears defeated Tattnall Square Academy 65-28 in the second round and moved past Stratford Academy 78-39 in the quarterfinals. On the other side of the bracket, Wesleyan will face Lakeview Academy will face Lakeview Academy for a chance to play for the program's 12th state title. After a bye, Lakeview squeaked by Greenforest in the second round 59-55, and took care of Darlington, 72-54 in the quarterfinals.
A-Public
Woodville-Tompkins faces Telfair County in the semifinals after defeating Marion County 59-49 in the quarterfinals. Woodville had a first round bye and defeated Wilcox County 53-47 in the second round. The Lady Wolverines, were defeated by Telfair County 59-55 in the first round last season. Savanna Walker leads Woodville with 16.2 points, 8.8 rebounds and three steals per game. Jazmin Grayson adds 11 points, nearly 10 rebounds, five assists and six steals per game. On the other side of the bracket, Pelham will face Wheeler County. For the Pelham Lady Hornets, this is the next step to adding the program's first state title since 1997. Pelham is led by Mahogany Randall who is averaging nearly 15 points, three rebound and three steals per game. Randall's supporting cast includes three players averaging in double-figures can all produce game changing performances. Destiny Thomas (13.1 points per game), Mahogany Brown (12 points per game), and Aaliyah William (10.7 points per game) add to the offensive depth and could pose trouble for Wheeler County. Brianna Hinton, the top scorer for Wheeler County, is averaging 12 points and nearly five assists per game. Lakaitlin Wright, who also adds offensive presence with 11 points per game, is averaging nearly 12 rebounds per game.