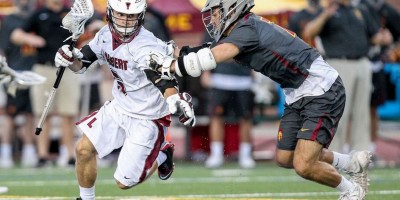 The 2022 GHSA Lacrosse season will conclude this Saturday at Denmark High School with a four-game lineup—starting with a Class A-5A and 6A-7A girls championship double-header and concluding with the boys Class A-5A and Class 6A-7A finals. Defending state champion Blessed Trinity and Northview will open the action at 10 a.m. in the Class A-5A finals. Blessed Trinity's bid for a fourth-straight state title was snapped in 2019 by Starr's Mill and the Titans avenged that defeat with a 12-6 win in last year's championship to win the program's fourth state title since 2016. Blessed Trinity completed last year's championship run without a single loss to a Class A-5A opponent and is one victory away from another flawless run against its Class A-5A counterparts. Blessed Trinity has outscored its four playoff opponents 68-14 and opened up the year with a 21-8 win over Northview. Now, the two Titans will clash again after Northview's thrilling 15-14 win over Starr's Mill in the semifinals set up the rematch.
In the girls Class 6A-7A finals, 14-time state champion Milton will take on a Creekview team that is looking to make history by winning its first-ever state title. Milton has advanced to the finals with a 61-28 scoring advantage in the four previous rounds, while Creekview has dispatched its playoff opponents with a 64-21 edge. Milton's lone instate loss this year came to Hillgrove (7-6) in overtime and Creekview's came to Walton (16-15). The Grizzlies defeated Hillgrove 17-8 in the quarterfinals and Milton defeated Walton 11-3 in Wednesday's semifinals.
Longtime rivals Westminster and Lovett will battle for the boys Class A-5A state title in a rematch of their April 8 meeting that Lovett won 9-6. The Lions carry a flawless 22-0 record and have outscored its four playoff opponents 68-17. Westminster overcame a 1-4 start to the season to reach the finals and carries a 7-game win-streak—including a 61-16 scoring advantage during the playoffs and a 7-4 win over defending state champion Blessed Trinity in the semifinals. Westminster has won six all-time state titles, while Lovett is looking for its fourth all-time championship and first since 2009.
Heavyweights Lambert and Walton will battle in Saturday's nightcap for the boys Class 6A-7A state crown. These teams met in the 2019 state finals and Walton scored a thrilling 8-7 overtime victory to win its second state title. Lambert beat Walton 7-5 in 2020 before the season was cut short and also scored a 9-8 victory over the Raiders last season. This will be their first-meeting this year and Lambert will have an opportunity to win its sixth all-time state crown. Walton has poured on a 63-32 scoring advantage through the first four rounds of the playoffs, while Lambert's defensive prowess has produced a 56-10 goals advantage. Lovett is the only team this season to score double-digit goals against the Longhorns (11-10) and Lambert will be facing a Walton team that has generated 14.9 goals per game this year. The Raiders' high-powered attack allowed them to jump out to a 10-2 halftime lead in its 18-13 semifinal win over North Paulding. Conversely, Lambert led Buford 5-1 at the half and 8-3 after the third quarter before clinching its 8-6 win.