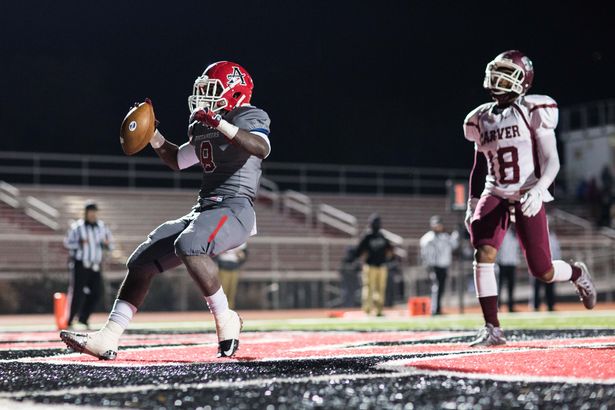 The 2016-17 GHSA football schedule (CLICK HERE) has been released and provides us with a look ahead to the first year with the new Class AAAAAAA. The expansion to a seventh classification has reduced the amount of teams in each classification and that makes this year's schedule particularly intriguing. In Class AAAAAAA, there are only 48 schools and the average region size is just six teams. In a region with six teams, the region schedule (five opponents) and non-region schedule (five opponents) splits the 10-game regular season schedule. Region 1-AAAAAAA only has four teams and since each team will only have three region opponents to play, that means seven non-region contests will be on the schedule for each of the teams.
Region 1′s Camden County will face Oak Leaf (FL), Venice (FL), Columbia (FL), Glynn Academy, Brunswick, McEachern and Forest Park before closing the season with Colquitt County, Lowndes and Tift County in region action. Colquitt County scheduled Mill Creek, American-Heritage (FL), Tucker, Roswell, Brookwood and Valdosta before its trio of region games.
In Region 4-AAAAAAAA, Roswell has packed its schedule with top tier opponents. The Hornets open the season with Buford in the Metro PCS Corky Kell Classic and then take on a gauntlet of Central Gwinnett, Colquitt County, Archer and Milton before region play. The region includes Walton, Etowah, Lassiter, Woodstock and Cherokee.
One of the most exciting new regions will come in Class AAAAAAA with Region 1. Coffee, Houston County, Lee County, Northside-Warner Robins and Valdosta form a highly competitive five-team region. Region 7 will also introduce a new neighborhood of region opponents as Alpharetta, Cambridge, Centennial, Chattahoochee, Dunwoody, Johns Creek, North Atlanta, Northview and Pope form a solid nine-team collection.
In Class AAAA, Blessed Trinity and Marist become first-time region rivals in Region 7 and Jefferson, St. Pius, Oconee County and North Oconee lead Region 8.
Defending Class AA state champion Pace Academy and defending Class AAA champion Westminster are in the newly-formed Region 5-AAA with Cedar Grove, Lovett, McNair, Redan, Stone Mountain and Towers.