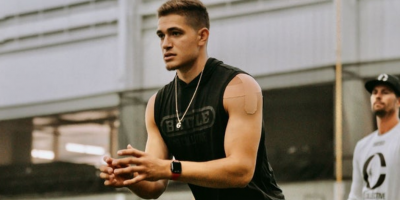 247sports
The GHSA ruled on Tuesday that quarterback and USC-commit Jake Garcia is ineligible to participate with Valdosta for the remainder of the season. The highly-recruited four-star senior passer made the decision to transfer to Valdosta this Augusta after the state of California postponed its football season to the spring semester. This move became the most high-profile transfer that the state saw during a wild offseason, but his time with the Wildcats was cut short after the move was deemed illegitimate.
Garcia's talent went on display when he suited up Week 1 and quarterbacked the Class 6A No. 1 ranked Wildcats to a big 28-25 win over Class 5A No. 1 Warner Robins in his debut. He did not participate in the team's past two contests, however, and during this time news began to circulate that Garcia's move might not have been a legitimate.
In order to sidestep an existent rule, Garcia's parents legally separated, and did not make a legitimate move according to the GHSA's ruling. The situation regarding Garcia's family and the move was brought to the GHSA's attention when it broke earlier this month and the Association ultimately ruled against his ability to participate the remainder of this season. Valdosta has since filed an appeal to challenge the decision, but there is no timeline on when that appeal process would take place as of yet.