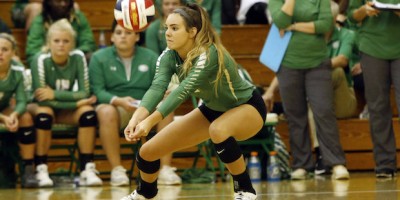 Buford volleyball is in the Class 5A finals. Credit: David McGregor
CLASS AAAAAAA
Walton 3, Mill Creek 0
Top-ranked Walton scored a 3-0 (25-9, 25-23, 25-16) sweep over visiting Mill Creek and will meet Etowah in Saturday's finals for a shot at the program's 12th state title. Juniors Gabby Gonzales (19) and Reilly MacNeill (12) combined for 31 of Walton's 45 kills, while junior Caroline Cheney posted 41 assists in the three sets of action. Walton finished the match with a 52.9 kill percentage, and Mill Creek's breakout season ends after reaching the state semifinals for the first time.
Etowah 3, Newnan 0
Etowah defeated Newnan for the third time in four tries this season with a 3-0 sweep (25-22, 26-24, 25-23). The host Eagles survived a 25-24 match point in the second set, and a 25-23 victory in the decisive third set followed a late 22-22 tie.
CLASS AAAAAA
Alpharetta 3, Johns Creek 1
Host Alpharetta rallied after dropping the opening set for a 3-1 victory (22-25, 25-18, 25-18, 29-27) and will face Harrison in the finals for the second straight year. Strong play from sophomore Bria Plante and freshman Evoni Lemons fueled Alpharetta's attack by committee mentality. Alpharetta swept its four-game season series with Johns Creek, which included three separate meetings this month.
Harrison 3, Pope 1
Defending state champion Harrison closed out an emphatic 25-9 win in the fourth set to return to the finals. Harrison jumped to a 19-9 lead in the opening set and held on for a 25-17 win, but had to survive match point before a 28-26 victory in the second set. Pope rallied in the third set for a 25-23 win before the Hoyas' ran away in the fourth. Kaylee Morris led Harrison with 44 assists off 72 attempts, while Hailey Crane (11) and Meg Kastensmidt (8) combined for 19 of the team's 33 kills.
CLASS AAAAA
Buford 3, Riverwood 0
Two-time defending champion Buford swept its way through the playoffs to set up a rematch of last year's finals with McIntosh. The 3-0 (25-19, 25-18, 25-17) win over visiting Riverwood was dominated by a trio of seniors that will be starring in their fourth-straight finals this weekend. Halston Hiller posted a team-high six blocks and 18 kills, Tatum Shipes added 13 kills and three blocks and Stella Alverson posted three blocks and 38 assists.
McIntosh 3, Starr's Mill 0
Host McIntosh defeated Starr's Mill without dropping a set [25-16, 25-9, 25-17] for the third time this season and now sits one win away from the program's first state title since 2013. Freshmen hitters Erykah Lovett (14) and Ngozi Illoh (10) combined for 24 kills and the team's well-executed outside serving kept Starr's Mill from setting up its own power game. Finn Millians added four kills, 12 digs and led the way with 25 assists while fellow senior Brianna Becerra registered 12 digs.
CLASS AAAA
Blessed Trinity 3, Woodward Academy 0
Blessed Trinity advanced to the Class AAAA championship after weathering a tough Woodward Academy attack in the semifinals. The Lady Titans won the first two sets (25-18, 25-23) and then battled for the third set after being down 21-18 and 24-21. Blessed Trinity rallied to take the third set 26-24. Courtney Finkle led Blessed Trinity with 14 kills. Anna MacDonald had a team-high 19 digs, and Brenna Mako amassed 20 assists for the Lady Titans. Blessed Trinity, which has won six state titles in eight years, hit .316 as a team in the win.
Marist 3, St. Pius 0
The Lady War Eagles will compete for their eighth volleyball state championship after defeating St. Pius in three straight sets. Marist took the sets 25-12, 25-18 and 25-18. Hannah Marier hit .471 and got nine kills. Jacque Boney added nine kills with seven blocks. Cameron Dames had 15 digs and nine kills. As a team, Marist accounted for 38 total kills while hitting .232. Marist will face Blessed Trinity on Saturday at Marietta High School for the Class AAAA title.
CLASS AAA
Pace Academy 3, North Hall 1
Pace Academy lost the first set 25-23 to host North Hall but took the second set 25-14 before a dramatic final two. North Hall had set points at 24-22 in both the third and fourth sets, but Pace scored four straight points both times to win them 26-24 and earn its second-straight trip to the finals. Lily Reckford had a key block in the four-point rally in the fourth set. Setter Kalissa Greene had 43 assists. Pace had 78 digs, 15 aces, a .281 hitting percentage and 2.28 passing behind aggressive play from sophomores Ada Jane Agolli and Lucy Ferry and junior Alexandra Baker.
Westminster 3, Lovett 2
Rivals Westminster and Lovett met for the fourth time this season with Lovett holding a 2-1 edge before the semifinals matchup. Westminster won the only semifinals matchup to go five sets (25-12, 20-25, 26-24, 19-25, 15-10). Outside hitter Gabi Dolan had 30 kills, four blocks and a .396 hitting percentage. Libero Lexi Saulny had 16 digs, outside hitter Mary Emily Morgan had 17 kills and defensive specialist Claire Zhou had five aces and 11 digs. Setter Chloe Emch had 59 assists.
CLASS AA
Coosa 3, Armuchee 0
Coosa returns to the state finals, where it lost last season in its first-ever appearance, with a 25-9, 25-9, 25-12 over Rome rival Armuchee at home. Middle blocker Taylor Roberts had 11 kills, six aces and six blocks for Coosa, while setter Brinley Smith had 32 assists, 11 digs and eight aces. Outside hitter Gracie Shumate contributed five kills and three aces. As a team, Coosa had 57 digs, 32 kills, 19 aces, a .321 hitting percentage and a 90.4 serving percentage in a strong defensive effort. Coosa defeated Armuchee five times this season without dropping a set.
St. Vincent's 3, Chattooga 0
St. Vincent's continued its quest for a third state title and second in a row with a 25-15, 25-22, 25-14 sweep over visiting Chattooga. Middle hitter Emma Wyman tied for the team lead with nine kills to go with three blocks and just one error. Outside hitter Lizzie Horn also had nine kills and added 12 digs. Setter Dylan Herb had 35 assists and two blocks. Middle hitter Chloe Maier, who also played right side, contributed six kills and two blocks. Head coach Katie Broderick cited strong defense from her libero Meagan Voyles and defensive specialist Lindsey Hawk. Voyles had nine digs, and Hawk had eight.
CLASS A
Calvary Day 3, Savannah Country Day 0
Calvary Day will play for its third-straight state title with a 25-14, 25-13, 25-20 sweep over visiting Savannah Country Day. Outside hitter Tynley Smeltzer had seven kills, two aces and nine digs, and libero Madison Sprosty had four aces and eight digs. Middle hitter Sara Daniels had five kills, three blocks and three digs. Calvary Day's other outside hitter, Helen Chisolm, had seven digs, five aces and three kills, and setter Caitlyn Baker had 12 assists, six digs and four aces. Calvary had a strong night serving, totaling 17 aces. Madeline Wynn led SCD with 11 kills.
Mt. Paran 3, Walker 0
Mt. Paran makes its first trip to the state finals after sweeping fellow Cobb County team Walker 25-18, 25-19, 25-18 at home. Setter Jillian Tucker had 31 assists and 11 digs, and outside hitter Sarah-Hayes Farley had 14 kills and 10 digs. The team amassed 76 digs, with libero Sara Armstrong (17) and defensive specialists Renee Dawkins (14) and Angel Ferary (12) contributing to the strong defensive play. Middle blocker Jordan Hough had five kills and five blocks, and right side Beth Bowman had four kills and three blocks. Mt. Paran had 12 blocks overall.