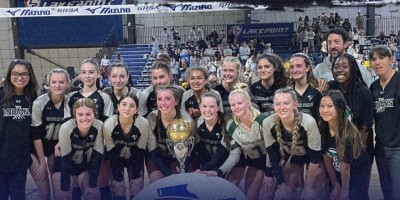 Mt. Paran swept Landmark Christian 3-0 (25-23, 25-18, 25-19) to win its second-straight championship and third since 2018 in Friday's Class 2A finals. The Eagles have posted 83 total wins over the last two seasons and closed out their run to this year's crown with a state-best 28-match winning streak.
"Our girls really trust each other and play like a true team," said Mt. Paran head coach Selina Chancy. "We don't necessarily have one or two dominant players and every single person trusts each other, works together and really just set out from Day 1 to go back-to-back and work every day to get better to prepare them for this."
Mt. Paran shook off some nerves early in the first set and junior Sarah Schwartz began shining on the championship stage.
"Sarah Swartz definitely played amazing all around," said Chancy. "She was not only hitting big swings, but also had so many smart shots of finding the holes and placing tips. She also played fantastic defense and her service game was really good. She played all around fantastic and our senior libero Molly Cox was phenomenal, her serving was really tough as well."
Mt. Paran trailed 16-9 midway through the opening set and Schwartz sparked a 5-1 scoring burst that forced Landmark Christian to call a timeout. The Eagles later took their first lead of the match at 22-21 ad Schwartz closed out the set with back-to-back kills.
Mt. Paran led 12-3 in the second set and closed out a 25-18 win to go up 2-0. In the decisive third set, the teams went back-and-forth with Mt. Paran holding a 20-18 lead prior to its 25-19 victory.
Class 3A
Morgan County avenged a 3-2 loss to Oconee County on Oct. 11 with another five-set marathon and overcame a 2-1 set deficit to celebrate the program's first-ever state title. The Bulldogs' emerged from an 18-18 tie and scored a 25-23 victory in the first set. Oconee County responded with a 25-19 second set victory and 25-20 win in the third. Morgan County climbed back into the match in the fourth set and broke open a 9-9 tie with a 14-7 swing to clinch it 25-16 and force a fifth set. The Warriors came out strong with an early 4-1 lead in the race to 15 points, but Morgan County captured an 8-7 lead with a 6-3 scoring burst and pushed the lead to 12-10 before closing out the victory.
Class A
Tallulah Falls closed out top-ranked Mt. Bethel 3-1 [25-20, 25-27, 25-14, 25-20] in the Class A championship to capture its first-ever state title and clinched the decisive fourth set with back-to-back aces by Addy McCoy. The senior middle hitter was pivotal in the Indians' historic 2022 season and helped the program achieve its first-ever region title last month before coming up big over the course of the postseason run. On Friday, Mt. Bethel jumped out to a 10-3 lead in the first set, but Tallulah Falls responded and tied it up 11-11 and 16-16 before taking the set with a 9-4 burst. Mt. Bethel went up 18-10 in the second set and survived a furious 11-3 rally by Tallulah Falls before escaping with a 27-25 set win.
With the match tied 1-1, Mt. Bethel again came out strong and took a 12-7 lead, but Tallulah Falls orchestrated 16-straight points before closing out a 25-14 lead. The fourth set was tight throughout and Mt. Bethel saw its 13-12 lead shift in Tallulah Falls' favor and the Indians closed out the match with the McCoy aces.
"If we manage to hold onto those leads, it is a different outcome," Mt. Bethel head coach Paul Stevens told the Marietta Daily Journal following the match. "At the end of the day, I am so proud of these girls and the season they've had. I know it stings right now, but when a little bit of time passes, they will look back on this season as a whole and what they accomplished. I know they will hold their heads high."