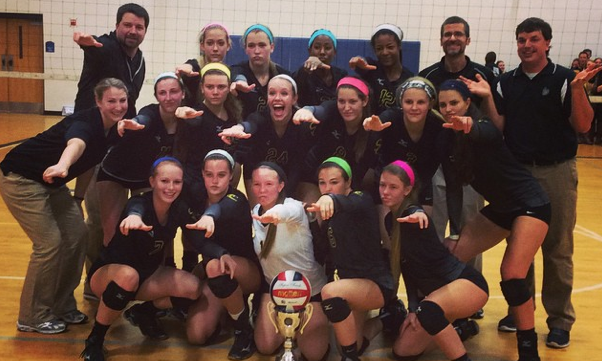 GHSA
North Cobb's Savanna Gonzalez closed out the fifth set with three straight kills as the Warriors edged North Gwinnett Saturday for the school's first volleyball state title, taking the Class AAAAAA championship (25-21, 24-26, 18-25, 25-13, 15-9),. North Gwinnett took the second and third set to gain a 2-1 lead but the Warriors heated up in the fourth set. With it knotted at 3-3 tie, North Cobb used two 10-3 scoring bursts to force a fifth set. North Cobb trailed 5-2 in the final set before taking its first lead at 7-6 and finishing off the Bulldogs.
Class AAAAA: Sequoyah edged defending Class AAAA state champion Columbus in five sets (17-25, 25-20, 23-25, 25-19, 15-11) to capture the school's first state title. The Chiefs dropped the opening set and trailed 2-1 heading into the fourth frame. Ten ties and eight lead changes highlighted the fourth set before Sequoyah's Logan Page found open court and dropped in a winner on set point. Sequoyah used a 6-1 run in the fifth set to build a 9-6 lead and hold off the Blue Devils.
Class AAAA: Marist won in five sets (22-25, 25-19, 25-16, 20-25, 15-12) to claim its first state title since 2006. Buford took the first set but Marist evened it up and carried the momentum into the third frame to take a 2-1 lead. Buford tied up the fifth set 12-12 but Sydney Leimbach and Marist stuffed Buford's attack to take the final three points. Marist's Leimbach notched a team-high 24 kills and Hanna Weiland led with 54 assists.
Class AAA: After finishing state runner-up last year and also runner-up to Westminster in this season's Region 4-AAA championship, it was Blessed Trinity's time on Saturday. The Titans avenged their recent loss to the Wildcats by cruising to the sweep (25-17, 25-22, 25-13). Amber MacDonald recorded 20 digs, while Blessed Trinity also got 11 kills from Annie Dempsey and 16 assists from Maggie Rick.
Class AA: It was a new classification but the same story for the Holy Innocents' volleyball team. Despite moving up to Class AA, the Bears secured back-to-back state championships for the first time in team history by beating Lovett (25-22, 25-20, 30-28). In the third set, Lovett took a 24-21 lead after Bears' head coach Taylor Noland incurred a point penalty for an illegal substitution. Holy Innocents' answered, saving all three set points to even things at 24-24 before finally capitalizing on their fifth championship point at 29-28. The Bears once again relied on the leadership and defensive skills of lone senior Sarah Joe.
Class A: Hebron Christian captured its first volleyball title by triumphing over Savannah Christian in four sets (25-20, 13-25, 25-19, 25-18). Hoping to avenge last year's semifinal defeat to the Lions, Savannah Christian had no trouble dominating the second set. A battle-tested Hebron Christian squad, however, had won all four of its previous tournament matches in four sets and quickly regained control. Hebron Christian was led by seniors Alli Johnson's (13 kills) and Courtney Civelli (28 digs).