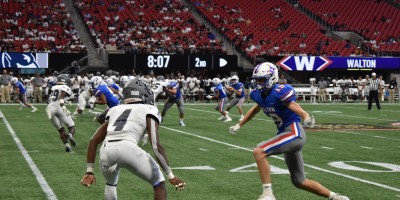 This past week experienced a wave of major metro Atlanta school districts announcing that they would be holding virtual semesters this upcoming fall. The news prompted the state's decision makers, in congruence with the Georgia High School Association, to make a determination on whether or not to proceed with athletics this fall in the backdrop of an unprecedented virtual environment. The GHSA's 12 board of trustee members met Monday afternoon to discuss the issues and emerged with a unanimous decision to delay the start of the 2020 football season two weeks from its regularly scheduled start date of Aug. 21, while keeping the other fall sports (fastpitch softball, cross country, cheerleading and volleyball) on their regular starting schedules.
The Georgia high school football season is now slated to start statewide on Friday, Sept. 4 and will spanned over 12 weeks in order to maintain the 10-game regular season structure. The two-week delay pushes the state playoffs back from the regularly scheduled dates in mid-November and introduces the scenario of the late rounds of the playoffs set to be played in late December for the first time.
The biggest takeaway from the decision is that the GHSA has addressed any eligibility concerns with players being able to participate in extracurricular activities in the new virtual environments this upcoming fall. As long as players meet the eligibility requirements, then they will be able to compete, according to GHSA Executive Director Dr. Robin Hines.
"As long as they are enrolled in that school, and that school is determining their grades and keeping their transcript at that school, and they meet all other areas of the eligibility requirements, then yes, they will be eligible," Hines told 11Alive on Friday, July 19.
The vote to keep the football season on schedule was voted down 8-4 in Monday's meeting and according to the minutes, Atlanta Public School athletic director Jasper Jewell said his system might be the first to cancel fall sports if the season is not pushed back. By delaying the start two weeks, the board felt it gave schools more equal footing entering the season after all the disruptions occurred during this current offseason.
The Corky Kell Classic was originally scheduled to kick off the high school football season on Wednesday, Aug. 19 and continue its four-day, 11-game lineup through Saturday, Aug. 22. Following the GHSA's announcement to delay the season, the event intends to hold its four-day lineup the first week of the season and will look to have an updated schedule made available at the soonest possible time.