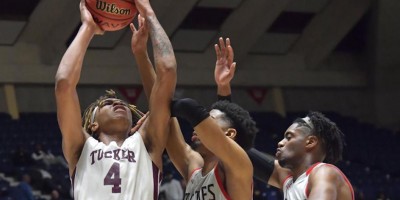 The GHSA voted Tuesday to implement a shot clock in high school basketball games, making Georgia the tenth state in the nation to adopt the system. The 30-second shot clock will be used for all varsity games after a three-year phase-in process.
"I do think it does change the game a little bit," said Greater Atlanta Christian boys basketball coach David Eaton. "There's certain things you do at the end of a quarter or going into the half or the end of the game. I think like teams will focus on that a little more with the shot clock. I think it does change the dynamic of how you prepare for a game a little more, but I think it changes the end of the game more than the constant, regular flow of the game."
In the upcoming season, the shot clock will only be used in holiday tournament and showcases. In the second year, the shot clock will be used in approved tournaments and allowed in region games when decided by the region.
By 2022-23, the shot clock will be used in all varsity contests from the first game of the season to the state championship game, including region games and tournaments. The addition, and phasing in process, only makes sense according to Eaton, who led the Spartans to the AAA state championship title in 2018.
"If the kid's goal is to play college or end up in some level of European ball or the NBA, all of those levels of the game use a shot clock," he said. "I think it definitely unifies basketball a little more. And high school basketball is amazing in the United States and it definitely needs to be aligned with college and pro."
The reactions varied on social media, with proponents and opponents sharing their opinions. But an important thought from Eaton, who played college basketball, was the adjustment to the timing of the shot clock in college after never having played with one in high school was exactly that: an adjustment.
"I struggled with it at first," Eaton said of the adjustment to using a shot clock in college. "There's certain shots that you take and when I got to college, my coach said 'hey that was too early in the shot clock.' I think it'll prepare players a little more because it was foreign to me and foreign for anybody."
Eaton led the Spartans to a 21-9 record last season with a loss to Monroe in the second round of the Class AAA playoffs.