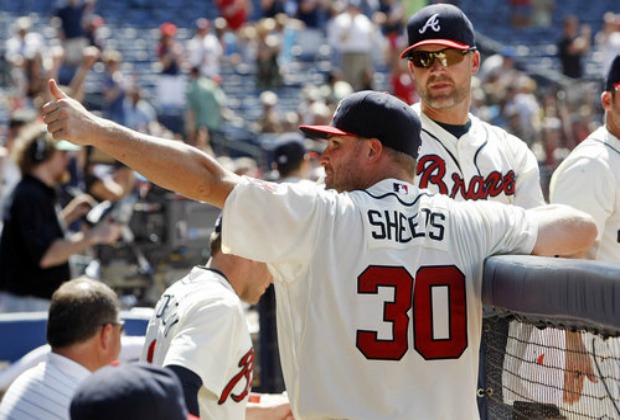 Curtis Compton/AJC
The 2012 Atlanta Braves season has been a roller coaster with eight-game losing streaks and seven-game winning streaks highlighting the team's first half. The Braves entered the four-day All-Star break on a four-game winning streak and picked right up after the break with a three-game sweep of the Mets. Atlanta took the first game 7-5 then rallied for an 8-7 win in Game 2. Sunday, Ben Sheets won his first game in two years with six shutout innings as Atlanta won 6-1.
Sheets was making his Braves' debut after signing with the team on July 1. He called the outing "incredible" as he allowed just two hits and one walk while striking out five to earn the win.
"I like to pitch from in front, that's fun," Sheets told reporters after the game. "I just tried to stay ahead and not get in good hitters' counts."
The Braves were off Monday before welcoming in the San Francisco Giants for three games. Last night saw the Braves' winning streak come to a close after the Giants pounded Atlanta 9-0. Jair Jurrjens surrendered eight runs on eight hits in just 3.1 innings of work. Buster Posey collected three hits and five RBIs in a return to Georgia for the Leesburg native. Mike Minor goes tonight for the Braves.
REVOLVING DOOR …
The Braves went through a stretch after the All-Star break of a new shortstop every day after Andrelton Simmons was lost with a fractured right pinky finger. Jack Wilson was the first shortstop to fill in for the rookie, but he was lost with a dislocated right pinky finger. The Braves turned to Martin Prado before acquiring Paul Janish from the Cincinnati Reds in exchange for Gwinnett pitcher Todd Redmond. The 29-year-old Janish was in the starting lineup last Sunday after the trade went through on Saturday. Before coming to Atlanta, Janish had appeared in 324 major league games over four seasons for the Reds. He is known for his sterling defense, and was twice named the Cincinnati organization's best defensive infielder by Baseball America. This is the second deal Atlanta has struck with Cincinnati this season after sending J.J. Hoover to the Reds for Juan Francisco.