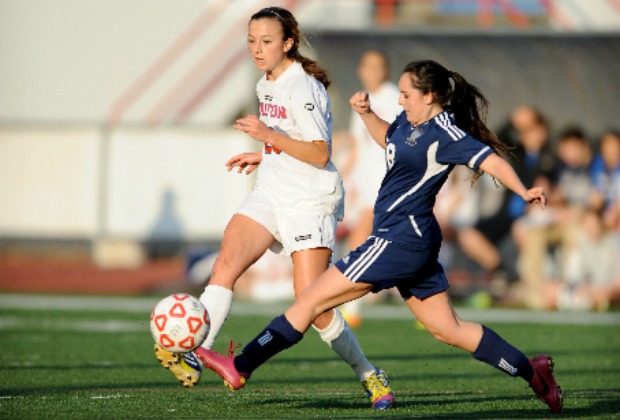 Photo by Randy Bowman
For the second time in nine days, Region 6-AA rivals Lovett and Westminster battled each other into a shootout. The Wildcats had prevailed at home following a 1-1 tie on April 3, but this time Lovett had home-field advantage last Friday. Neither team could score during regulation or the overtime periods before the Lions turned the tables in the shootout and avenged their recent loss.
Lovett has another rematch on its hands on Thursday at Greater Atlanta Christian. The Lions won their first meeting 1-0 on March 4, but the Spartans have since gone on a seven-game winning streak and are ranked No. 1 in Class AA. Westminster, meanwhile, preceded its setback against Lovett with a 3-2 victory at Woodward Academy last Tuesday. This Tuesday the Wildcats will host Wesleyan, a team they edged 3-2 on March 28.
Wesleyan ended a stretch of five straight losses by notching a 3-1 home win last Friday over Dawson County, which is ranked seventh in Class AAA. The Wolves trailed 1-0 early in the second half but they stormed ahead with three goals in the final 40 minutes. Freshman T.J. Anderson scored twice and Ellie Hall also added a goal. Wesleyan got assists from Hope Morgan, Abbey Mitchell and Christina Moraitis.
Woodward Academy endured a tough week that saw it lose twice by 3-2 margins. After falling to Westminster, the War Eagles lost by the same score at home to Pope last Friday. The difficult schedule continues as they pay a Thursday visit to St. Pius X, the No. 1 team in Class AAA.
Pace Academy also fell on hard times last week. The Knights lost at Whitefield Academy 2-1 last Tuesday then lost at Paideia 3-1 last Friday. The match between Pace and Whitefield went into a shootout following a 1-1 deadlock. Pace finally solved WolfPack goalie Lauren Burke (13 saves) with 3:40 to go in regulation to force overtime, but Burke came up big in the shootout. Pace will look to bounce back at home against Wesleyan on Wednesday before going on the road one day later to face Atlanta International School.
Marist maintained its stranglehold on the top ranking in Class AAAA with victories last week over Westminster and River Ridge. The War Eagles took care of Westminster, No. 2 in Class AA at the time (now No. 3), by a score of 2-0. They followed that up by defeating River Ridge, No. 8 in Class at the time (now No. 9), via a 4-1 decision. Marist wraps up its regular season with home matches against Washington and McIntosh on Tuesday and Wednesday, respectively. Undefeated McIntosh is the top-ranked team in Class AAAAA.