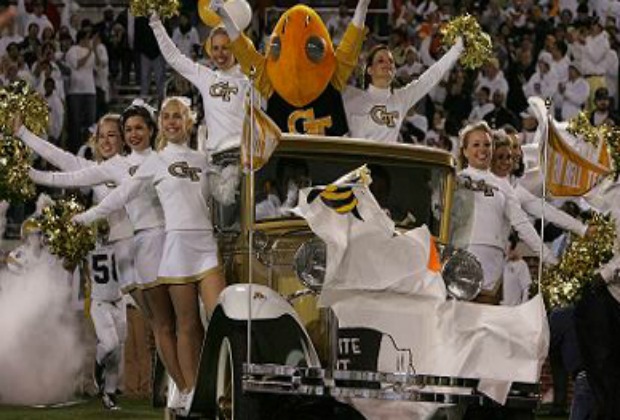 Ramblinwreck.com
The 2012 Georgia Tech Hall of Fame class was announced today, and the seven-person class is led by none other than George "Goose" Godsey. In total, two football players will be inducted into the Georgia Tech Hall of Fame along with a golfer, two track and field stars, a volleyball great and a baseball standout. The induction ceremony will take place Oct. 19 at the annual Hall of Fame Induction Dinner, and the inductees will be recognized during Tech's Oct. 20 game against Boston College.
"We are excited to welcome this 2012 class into the Georgia Tech Sports Hall of Fame," said Yellow Jackets AD Dan Radakovich in a release. "All of these student-athletes excelled individually in their own right, but they were also key contributors to the success of their teams, which achieved great heights during their time at Tech. They are all tremendous representatives of Georgia Tech, and we look forward to honoring them on Oct. 19."
The former Georgia Tech quarterback Godsey is best known for tearing apart the Georgia Bulldogs in Athens in 2000, but the four-year letterwinner compiled a 17-8 record while serving under center for two of the most prolific offenses in Yellow Jackets history. Godsey was a member of the 1998 team that won a share of the ACC title, and he was named second team All-ACC as a junior. He still stands as Tech's all-time leader for career completion percentage. He is fourth in Tech history for career total offensive yards. He is currently coaching on the New England Patriots staff.
Jon Carman (1997-99) is the other football player being inducted into the Georgia Tech Hall of Fame. In 1999, Carman was All-ACC first team as a right tackle. He played four seasons in the NFL after leaving Tech.
Carlton Forrester (1997-2000) helped the Georgia Tech golf team to the 1999 ACC championship and a pair of runner-up finishes in the NCAA Championship during his college career. Forrester was All-ACC in 1999 and honorable mention All-American in 1999 and 2000.
Becky Megesi (1998-2001) was a two-time All-American in the outdoor 1500 meters and distance medley relay for the Yellow Jackets track and field team. She twice won ACC titles in the 1500 meters and was All-ACC three times. She qualified for the 2000 Olympic Trials in the 800 meters.
Tomas Motiejunas (1995-98) was a star on the Georgia Tech track and field team during the mid-1990s. He helped Tech claim the 1998 4X400 relay national championship and he was a multiple All-American during his college days. He also captured the ACC championship in the 400 meters.
Maja Pachale (1998-2001) was the ACC volleyball player of the year in 2001, capping off the four-year starter's career with the Yellow Jackets. Pachale set school records for kills over a career (1,836), season (552) and match (38). In addition to three All-ACC honors, she also was twice named to the ACC Academic Honor Roll.
Cory Vance (1998-2000) is still considered perhaps the top left-handed pitcher in Georgia Tech history. The Ohio native was All-ACC and third-team All-American in 2000, and he tossed five complete games his final year on the Flats. His 328 strikeouts ranks No. 4 in Tech's history. He went on to play for the Colorado Rockies in 2002 and 2003.