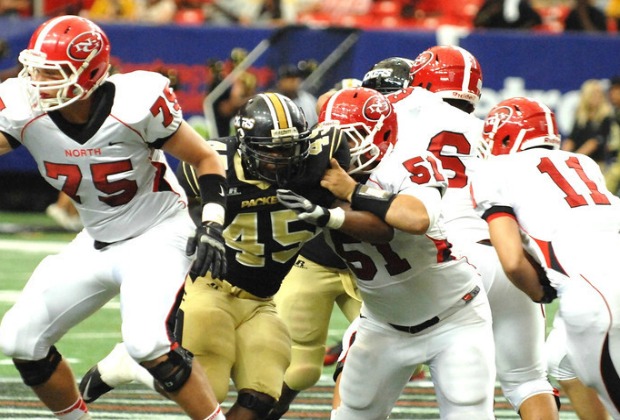 Sonny Kennedy
At the Corky Kell Classic media luncheon, Colquitt County head coach Rush Propst addressed a question to North Gwinnett's Donnie Miles about going both ways for Bob Sphire's Bulldogs. Propst admitted he was quite impressed with Miles and his ability to excel on both sides of the ball. The Colquitt County coach surprisingly revealed that he didn't like using players on both sides of the ball and had never really used the strategy in any of his coaching stops.
Several days later, Miles would make his presence felt on both sides of the ball, providing excellent coverage in the defensive secondary and taking a handoff 77 yards for a score on offense in a North Gwinnett win.
Despite the positive results on offense, Sphire noted after the game that Miles would primarily be used on defense this season, his projected position at UNC.
Even though Miles won't be used much on offense this season per his coach, star playmakers are being used on both sides of the ball early this season. Propst, who doesn't like doing it, will use Bobby Hill at both wide receiver and at cornerback this season and perhaps even slide his star offensive lineman Octavius Jackson in as a pass rusher when the situation calls for it.
Demarcus Robinson of No. 1 Peach County is also lending his talents to the defense this season. Not only did the future Clemson Tiger haul in two touchdown passes (including a 95-yard catch-and-run), but he intercepted a Perry pass and returned it 30 yards for a score to help the Trojans to a 21-14 win.
Northgate's Brandon Facyson is another player that can rotate from wide receiver to cornerback and Virginia Tech will benefit from the Viking standout's versatility.
The most common crossover probably comes from offensive and defensive linemen switching back and forth, with Michael Raiford of Heritage-Conyers being a prime example. Tight ends are also sometimes found excelling at defensive end. Auburn thought enough of Lovejoy's Arshad Jackson to give the two-way star a scholarship. Rarely does a quarterback play defense anymore at a level higher than Class A or AA. Running backs are also commonly found at linebacker or defensive back at the smaller classifications, but the higher classifications tend to have players specializing on one side of the ball.
But the real reason the two-way star may suddenly be in vogue again is the fact that the No. 1 recruit in the country goes both ways for Class AAAAAA No. 1 Grayson. Robert Nkemdiche rushed for a pair of touchdowns in Grayson's victory over USA Today No. 1 Miami-Central Friday. Nkemdiche also recorded a pair of tackles at defensive end, his projected position at Clemson. His future Tigers teammate Wayne Gallman also goes both ways for Mickey Conn's Rams, playing running back and defensive back.