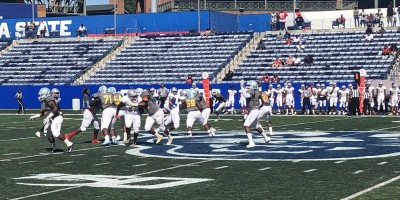 ATLANTA – In a game which was scoreless until late in the third quarter, Mays weathered the loss of its starting quarterback, Andrew Banks, and outlasted New Manchester 13-0 in the final game of the Great Atlanta Bash at Georgia State Stadium.
"To be honest," said coach Battle. "Our quarterback is pretty much our leader on the offensive side of the ball and I feel that when he went down, our kids lost a little faith. We have a young kid who they rallied behind and we relied on our running game today."
Mays got things rolling on a 4-yard touchdown run from senior back Tyree Nelson with 2:13 left in the third quarter. On New Manchester's next possession, Mays cornerback Durante Jones intercepted a wayward pass and returned it 40 yards for the touchdown to put the Raiders up 13-0.
"That was a play that Durante needed to make," Battle said. "We have been coaching him to make those kind of plays. I think that, anytime a defensive back is our on the island, their eyes get big and they jump things real fast. Luckily he was able to do what he can do and make the play and take it back for the touchdown."
Early in the fourth quarter, the Mays defense struck again when Omari Drake snagged another interception to keep the game in Mays' grasp.
"Our defense played game today," said Battle. "They stepped up when the quarterback went down on offense."