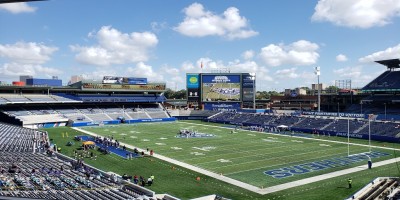 Seth Ellerbee
ATLANTA – South Atlanta quarterback John Lawton rushed for two touchdowns and passed for one – the game-winner with 52 seconds left – as the Hornets moved past Washington in the Great Atlanta Bash at Georgia State Stadium on Saturday.
"My teammates amped me up," said Lawton. "We came out and everybody played well. Heck of a game."
Washington struck first on a 2-yard run by Monye Jones, the 6-foot-2, 171-pound quarterback. South Atlanta got on the board after Lawton's 2-yard touchdown run with 6:24 left in the second quarter.
The Bulldogs pushed the lead with a 58-yard pass from Jones to Vachon Raye which capped a six play 74-yard drive and put Washington up 13-7 after the missed extra point.
With 53 seconds left in the first half, South Atlanta muffed a punt which was recovered by Washington at the South Atlanta 6-yard line, but the Bulldogs could not score and went to the locker room up 13-7.
Lawton gave South Atlanta the 14-13 lead on a 4-yard run with 2:44 left in the third quarter but Washington responded with an 8-yard run from Maurice Edwards to retake the lead. With 52 seconds left, Lawton passed to Pete Boyd on a 47-yard touchdown to put South Atlanta up for good.
"We always tell our kids that when bad things happen, make great things happen," said South Atlanta coach Brad Stephens. "Not only did he rush for two touchdowns and pass for the game-winner, he caught an interception on defense as well. These are the first couple of series he's ever gotten on defense for us in a game. He stepped up and played big.
Davion Mitchell sealed the victory with an interception with 28 seconds left in the game on a wayward pass at the 40 yard line.
"Davion is a model kid, a model student, a model player," said Stephens. "Davion has a 4.0 GPA and he makes plays for us. He got tired there at the end when they scored that last touchdown but he was resilient and came back and made a big play when we needed it at the end to seal the deal."