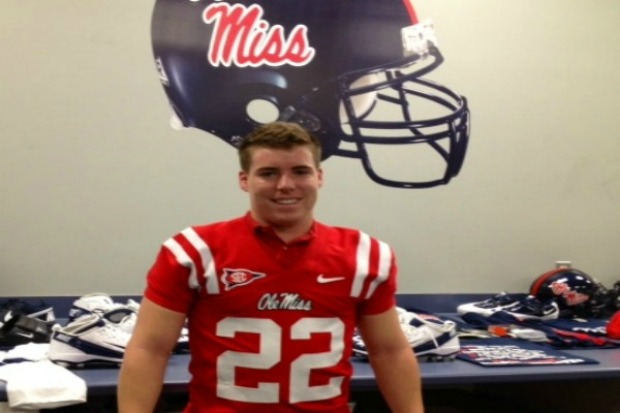 Gregory family
The Chattahoochee Cougars claimed the 2010 GHSA Class AAAA state title with a spotless 15-0 record thanks to a dynamic offense and a defense anchored by captain Josh Gregory. The two-way standout received All-State honors after racking up 158 tackles, including 19 TFL and two interceptions. He also notched 10 touchdowns while on the offensive side of the ball.
Following his senior season, Gregory signed with South Alabama and departed for Mobile just two days after graduating from high school. Gregory returned home less than three months later. "It just wasn't for me," said Gregory.
After taking classes at home and working out at GATA for the past year, Gregory is anxious to put the pads back on and step onto the football field. The safety spent most of last year touring campuses across the country including UGA, Michigan State and Ole Miss, finally deciding to enroll at Mississippi. In the end, it was the atmosphere that sealed the deal with Gregory.
"Everybody is so nice including the coaches," said Gregory. "It just felt like the place to be."
On his initial visit, Gregory was recruited by Justin Crouse, but after the coaching change, Gregory was still convinced to head to Mississippi by new coach Hugh Freeze and defensive coordinator Dave Wommack.
"I'll play the 'Husky' position," Gregory revealed. The spot in the defensive secondary is a strong safety/linebacker hybrid. Gregory admitted he is excited about playing for the new regime as he calls himself a coach's player.
He may have to wait his turn to play for these coaches as he and Ole Miss are awaiting word on his immediate eligibility for the 2012 season. He might have to sit out the season as a transfer, despite not playing last year at South Alabama.
"If I have to sit out, that is alright," said Gregory. "I won't mind if I've got to wait my turn. I will work hard and get stronger." Gregory leaves for Ole Miss on June 25.
Whenever he does hit the field, Gregory will look to provide an immediate impact. He immediately made a difference for Chattahoochee after arriving for his senior season. He hopes he can make his mark early on in Oxford.
"I'll be the smartest player on the field," promised Gregory. "I'm not the fastest or strongest, but I'll always make the play."