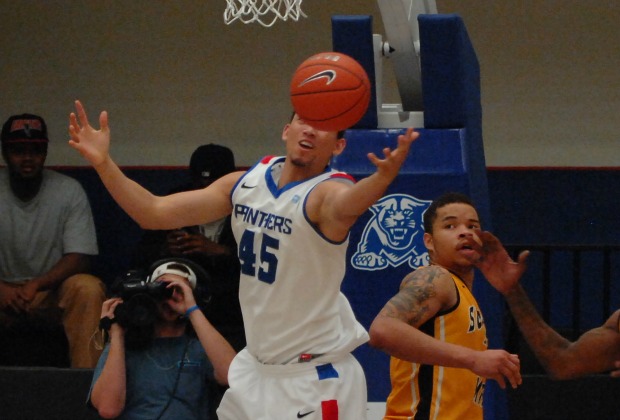 Sonny Kennedy
The men's basketball team has been up and down all season long and that can give headaches to Panther fans.
Currently, Panther fans don't have headaches because the team has been trending upward. Before last night's loss, the Panthers had won six of their last seven games, including an 83-63 thumping against Old Dominion.
Freshman R.J. Hunter had a career game for the Panthers as he scored 38 points and made 12 of his 18 attempts. Hunter also recorded a school and Colonial Athletic Conference record with 10 three-pointers. Hunter's 38 points are the most by a Panther since 1998, when Antonio Reese scored 38 against Kansas State.
"My teammates did a great job of getting me the ball tonight," Hunter told georgiastatesports.com. "The basket looked as wide as it ever has for me and I just took advantage of it. I didn't even realize until after the game that I had made 10 three-pointers."
Because of the game Hunter had against Old Dominion as well as his play during this stretch, he was named Lou Henson Player of the Week. Not only did Hunter score 38 points against Old Dominion, he dropped 27 points against Northeastern and helped the Panthers give the Huskies their first conference loss of the year. Hunter was also named CAA Rookie of the Week and CAA Player of the Week.
STILL STRUGGLING …
The women's basketball team is not having the same success as the Lady Panthers have lost five of their last six games as of Wednesday. On Sunday, the Lady Panthers took on Drexel and thanks to an 11-0 run at the start of the second half, Drexel came away with a 79-55 win.
Shooting 52 percent from the floor, Drexel could not be stopped on offense and the Panthers could not hang with their opponents, shooting only 40 percent.
"Well, Drexel is one of the better teams in the CAA and they shot well in the second half, but I am not pleased with the way we did things, offensively or defensively, in the second half," coach Sharon Baldwin-Tener told gsusports.com. "We hurt ourselves with mental mistakes on both ends of the court."
SOFTBALL PREVIEW …
Softball season is not too far away and the coaches of the CAA think the Panthers have a good shot of winning the conference title. In the preseason CAA coaches poll, the Panthers are ranked second only behind Hofstra. Last year, Hosftra won the conference tournament while the Panthers came in second place.