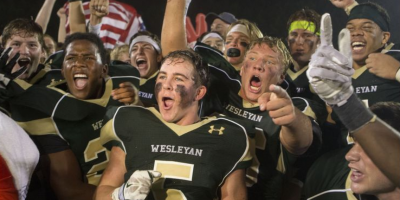 Wesleyan 48, B.E.S.T. Academy 34
How the game was won: Banks Ramsey's 3-yard touchdown run with 6:36 remaining put the game out of reach from an upset-minded B.E.S.T. Academy.
Top Performers: George Bielan scored three first half touchdowns to give Wesleyan a 34-20 halftime lead. Ramsey hit Harrison Cook on a 33-yard touchdown pass late in the third quarter before adding his game-clinching touchdown midway through the fourth.
Brookwood 40, Walton 13
How the game was won: Brookwood outscored Walton 20-0 in the third quarter before a scoreless fourth quarter sealed the victory. Dante Black scored a 24-yard touchdown at the end of a high-scoring opening quarter to give host Brookwood a 20-10 lead. In the third quarter, Walton quarterback Addison Shoup completed a pass to Dominick Blaylock, but Brookwood's Matt Hill stole the ball and returned it for a Broncos touchdown to push the lead to 26-13.
Top performers: Brookwood quarterback Angelo DiSpigna threw a 37-yard touchdown pass to Nick Prince in the first quarter before the duo connected again on a 29-yard touchdown in the third quarter that grew the lead to 33-13.
Cedar Shoals 42, Discovery 6
How the game was won: Cedar Shoals set the tone with an early safety and never looked back as the Jags kicked off the Coach Leroy Ryals era with a dominating win.
Top Performers: Aakeem Glenn tossed four touchdowns, two to Stavion Stevenson and two to Altavious Wright. Trent Harris added a 21-yard field goal and Osiris Walker punched in a touchdown run. Discovery scored on a Mikkael Reynolds run at the 8:35 mark of the third quarter.
Archer 20, Peachtree Ridge 19
How the game was won: Braylen Weems stepped in for an injured Dillon Waye and led a Tigers comeback. Weems hit Malik Sproles with 2:57 remaining in the fourth quarter to edge the Lions.
Top Performers: Peachtree Ridge jumped out to a 9-0 lead following a safety on a botched punt snap and a Connor Heyward 5-yard touchdown run. Keegan Strickland rushed for 105 yards in the first half including adding on a 2-yard score to make it 9-7. Archer's Michael Johnson made it 10-9 with a field goal, but Peachtree Ridge's James Williams answered back with a kick of his own. The Lions received an interception return from Wilson Catoe to go ahead 19-10 before Johnson added another field goal before the third quarter ended.
Mill Creek 32, Stephenson 7
How the game was won: Mill Creek's defense stifled the Jaguars, holding them to 171 yards of total offense.
Top Performers: Anthony Presto ran in two touchdowns to give the Hawks a 14-0 first quarter lead on two 1-yard plunges. Brenton King finished with field goals of 26, 38 and 42 yards. Cameron Turley tossed a 16-yard touchdown pass to Jack Plummer. Turley finished 18-of-35 for 150 yards.
Norcross 17,  Collins Hill 14
 How the game was won: Baron Radcliff found Robert Sims on an 11-yard strike with 6:20 remaining in the fourth quarter to slip past Collins Hill.
Top Performers: Drew Dinsmore threw a 45-yard touchdown pass to Braxton Curry and a 7-yard toss to David Beasley for Collins Hill. Baron Radcliff went 7-of-16 for 135 yards and two scores. Radcliff threw a touchdown to Necholas Sermons to open up the Blue Devil scoring at 8:35 in the second quarter. Cole Hanna tacked on a 22-yard field goal for Norcross four minutes later.
North Gwinnett 43, Milton 29
 How the game was won: North Gwinnett exploded in the fourth quarter to race past Milton after entering the final frame tied at 29. Ryan Lovelace's final touchdown run sealed the deal for the Bulldogs.
Top Performers: Cade Fortin hit LJ Fisher for a 20-yard touchdown pass to ignite the scoring for the Bulldogs. Matt Haller returned an interception to give North Gwinnett a seemingly commanding lead at 21-3 in the second quarter before Milton began to chip away. A pair of Cam Adams touchdowns along with three Nick Augello field goals drew the Eagles ahead at 29-21 at the 2:41 mark of the third quarter. Fortin threw another touchdown just before the period ended to knot the game back up.
Alcovy 28, Meadowcreek 15
Mountain View 28, Lambert 24
Greater Atlanta Christian 19, Westminster 16
Dacula 34, Central Gwinnett 13
Duluth 22, Berkmar 0
Columbia at Druid Hills