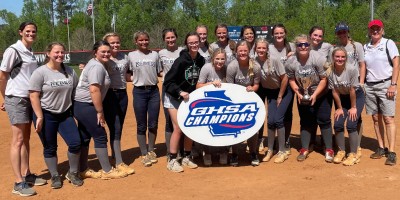 Haralson County defeated Cherokee 18-15 in the championship series to capture the program's third title and bring the GHSA Slow Pitch softball season to a close at Twin Creeks Park in Woodstock.
The Rebels – who won back-to-back titles in 2017 and 2018 – stayed flawless through the bracket and defeated West Laurens in the winner's bracket semifinals 6-1 early Thursday to earn the championship berth.
Through the bracket, Haralson County beat Oconee County 23-2, Cherokee 3-2, West Laurens 6-1 and Cherokee again in the championship series. After losing to the Rebels in the winner's bracket semis, Cherokee beat West Laurens 8-7 in the loser's bracket to earn a berth in the championship series where it would have needed two wins to secure the program's first-ever title.
See the full bracket of the GHSA Slow Pitch past champions.