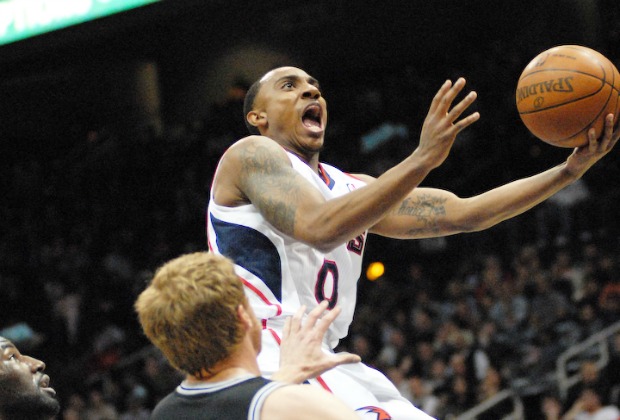 Photo by Jon Barash
As the season rolls along, so do the injuries. Center Pero Antic will now miss time with a stress fracture in his ankle after being the primary replacement for Al Horford. Antic will be sidelined for 2-4 weeks and that will thrust seldom-used Gustavo Ayon into the starting lineup while interrupting the rotation head coach Mike Budenholzer had started to grow comfortable with these past few games.
Not only is Antic out for a few weeks, but point guard Jeff Teague is also down with an injury and Budenholzer is looking for Lou Williams, Shelvin Mack and Dennis Schroeder to step up in Teague's absence. Mack has been the player to get the starts with Williams being the first player off the bench to try and create a spark when the offense starts to sputter. While most of the season Williams has looked hesitant to be the aggressive player he has been in the past, Teague's injury has forced the Atlanta native to more often attack the basket and attempt to create offense in the way he was known for before his knee injury. Williams has scored in double-figures in both games that Teague has missed time.
SCHROEDER'S CHANCE …
Schroeder is now having a chance to get valuable experience at the NBA level. It appears that the Hawks will give the rookie guard 15-20 minutes per game while Teague is out. This will allow him to grow while getting to play in Budenholzer's offense and seeing court time with players such as Williams, Paul Millsap and Kyle Korver. While he plays out of control sometimes, his aggressiveness creates open- ings for other players on the court. Schroeder, the 17th overall pick in last summer's draft, showed promising signs in the first four games of this season before diminished playing time eventually landed him with the Bakersfield Jam of the D-League.
TRANSACTIONS …
James Nunnally has been signed to his second 10-day contract and after it expires the Hawks will have the option of signing him for the rest of the season or letting him walk. So far, Nunnally has seen time behind Demarre Carroll in three games. The Hawks have also received a disabled player exception for Horford, which means a roster spot is open for the team to sign a replacement player for up to $5.25 million. Horford suffered a season- ending pectoral injury in late December.