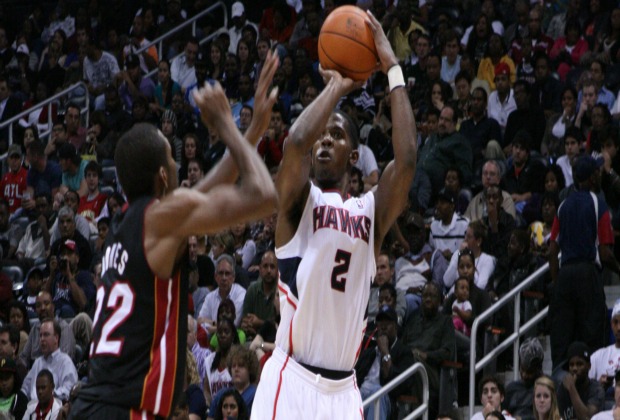 DJ Galbiati
Danny Ferry has been on the job for just one week, but that hasn't stopped him from making wholesale changes to the team. Yesterday news came down, broken by Adrian Wojnarowski of Yahoo Sports, that the Hawks had agreed to terms with the Brooklyn Nets to send them Joe Johnson and his four-year, nearly $90 million contract. The Nets in turn will be sending Atlanta five players, Anthony Morrow, Johan Petro, Jordan Farmar, Jordan Williams and DeShawn Stevenson (in a sign-and-trade), along with a lottery-protected first-round pick that originally belonged to the Houston Rockets. Morrow, Petro, Farmar and Williams each have expiring contracts and the terms of Stevenson's contract are unknown.
Within the hour, Marc Stein of ESPN reported that the Hawks had made another trade, this time sending Marvin Williams to the Utah Jazz in exchange for Devin Harris. Harris is a good fit for the Hawks at the point guard spot, splitting time with Jeff Teague. He also offers some scoring options if the Hawks go with both in the backcourt together. Harris also has an expiring contract while Williams has a player option for $7.5 million that he will surely pick up.
Between the two trades and the expiring contracts on the team currently, the Hawks will have at least $46 million of cap room to work with next season. The only two players that will be under contract will be Al Horford ($12 million) and John Jenkins ($1.1 million). The cap is dependent on revenue for the previous year, so it is possible that the Hawks could have close to $50 million to spend (currently the cap sits at a $60 million).
With all that potential cap room, the Hawks have the ability to sign three max deals and stay under the cap. Ferry's movements open the possibility for the Hawks to be the big player in next year's free agency period. Chris Paul and Dwight Howard are the two biggest prizes scheduled for free agency next year, and the Hawks could be in play for one or both. While it would be a long-shot to bring both to Atlanta, the Hawks have made themselves more desirable to free-agents who have long questioned the commitment of the Hawks ownership to putting together a winning team. The move to hire Danny Ferry also shows a long-term commitment to building a contender.
Another option for the Hawks is to make even more moves, either through trades or free agency this season. There are a number of desirable free agents this year that could come in and help in the rebuilding process. The most glaring need right now is at shooting guard and small forward, where several interesting options could present themselves, especially at the two. O.J. Mayo and Atlanta native Louis Williams are both free agents that would be mid-level salary options (between $5-8 million) that could come in and start ahead of rookie John Jenkins.
While the near future of the Hawks is very much in question, there is no doubt that the Hawks are going to be making a rapid transition over the next 12-13 months. Danny Ferry has shown that no one is off limits and no contract is immovable in his first week, and he is quickly shaping the team to his liking. Now that they have succeeded in the first step of Ferry's master plan, clearing cap room, the question is whether they can be as successful at spending that money wisely and to put together a contending team.
Ferry is not looking for a quick fix; instead he wants to put together a long-term plan to win and get over the proverbial "hump." The specifics of that plan are unknown, but what we do know is that the Hawks will be more active in the coming years than they have been in a long time. As for whether the plan will succeed, we never thought he could move Joe Johnson's and Marvin Williams' contracts, so In Ferry, We Trust.