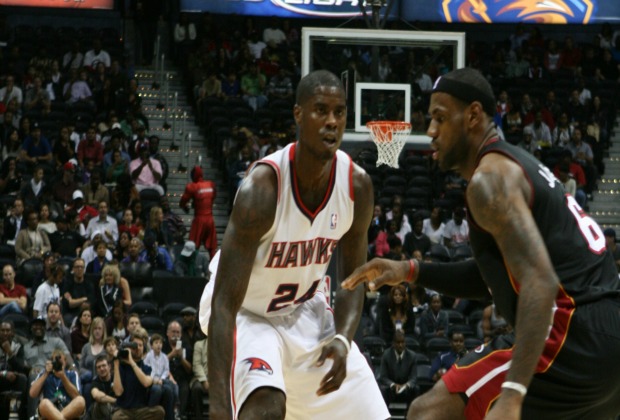 DJ Galbiati
The Atlanta Hawks made a bold move one week ago, naming Danny Ferry the new president of basketball operations and general manager. Now the GM is making a few bold moves of his own. Ferry pulled the strings on a pair of trades Monday that will drastically reshape the constitution of the Hawks for the near and distant future.
Ferry and the Brooklyn Nets came to terms on an agreement to ship Joe Johnson and the remaining four years of his deal to Mikhail Prokhorov's team in exchange for Jordan Farmar, Anthony Morrow, Johan Petro, DeShawn Stevenson, Jordan Williams and a first-round draft pick that is lottery-protected through 2016. Johnson is owed nearly $90M over the remainder of his deal while the contracts the Hawks are taking back will total around $25M, with much of it coming off the books after the upcoming season.
In a separate deal, Ferry agreed to terms with Utah to send Marvin Williams to the Jazz in exchange for Devin Harris. Williams' contract will pay him $8.3M in 2012-13 with a player option for $7.5M in 2013-14.
The deals cannot be consummated until July 11 after the NBA lifts its moratorium.
Harris and Farmar are both point guards, but Harris figures to challenge current starting point guard Jeff Teague for playing time. Morrow is a deadly 3-point shooter who can split time in the backcourt with Harris and Teague. Stevenson can float between shooting guard and small forward while Williams (6-foot-10) and Petro (7-foot) offer some size for the frontcourt.