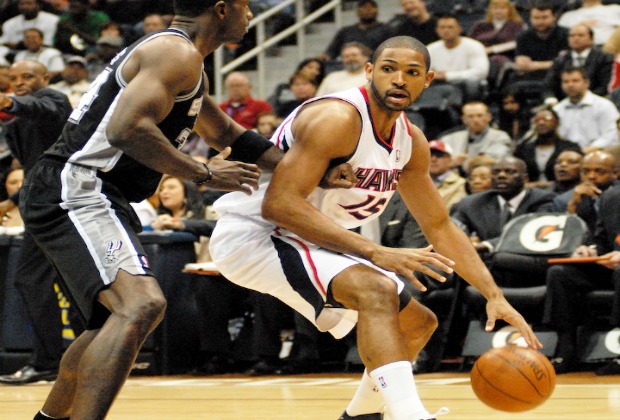 Jon Barash
Things haven't exactly reach Los Angeles Lakers levels quite yet, but the Hawks are in dire straights at the moment. They have lost four in a row—all in woefully unimpressive fashion—and five of their last six. Atlanta suddenly finds itself with a solid but unspectacular 20-14 record, leaving it 3.5 games back of Miami in the Southeast Division.
A four-game winning streak in late December propelled the Hawks to 19-9, but the slide started with a 123-104 blowout loss at Houston on New Year's Eve. The three-game stretch of losses began with a one-point setback at lowly Detroit last Friday, continued with an 89-81 home loss to Boston on Saturday and on Tuesday the Hawks fell at Minnesota, 108-103. The performance against Boston may have been the season's low point for Atlanta. After leading by as many as 17 points in the second quarter, the Hawks were outscored by a ridiculous 33-9 margin in the third and never came close to recovering the fourth.
THE SOFT CARD …
The Hawks were supposed to have a day off last Sunday, but that idea changed in the wake of Saturday's disaster. Instead, they watched film and held an extensive team meeting.
"We just watched film today," head coach Larry Drew told the Atlanta Journal Constitution following the session. "As painful as it was to watch, it was very, very productive. After we watched, we had some very good dialog amongst the group. I mean really good. It was unfortunate that we had to take an 'L' to bring us together like that. But things happen for a reason and maybe that was the reason."
Or maybe not. Maybe it was not quite as good as Drew thought. Atlanta came back out against the Timberwolves and promptly fell behind by as many as 12 points in the first quarter and 17 in the second. A late fourth-quarter charge brought the Hawks to within one point, but it was ultimately too little, too late. Afterward, Drew tossed around some disturbing words, including "soft" and "changes."
"We waited way too late to start playing," he told the AJC. "In the first half we were soft. Soft. I thought physically (the Timberwolves) did just about anything that they wanted to."