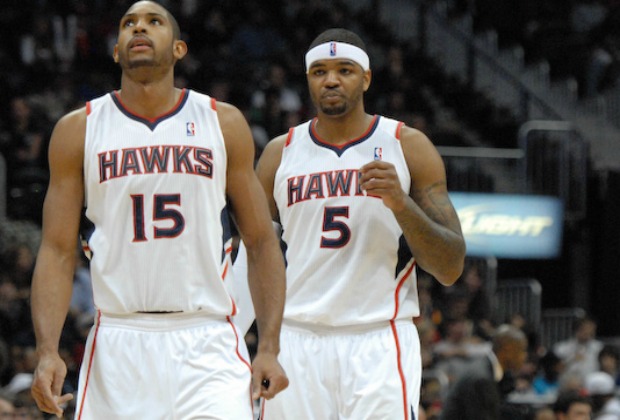 Jon Barash
The NBA trade deadline was Thursday afternoon, but the Atlanta Hawks only made two minor moves and decided to hold on to forward Josh Smith.
Leading up to the deadline, the Hawks reportedly made it known to anyone and everyone who would listen that their mercurial forward would be moved. That was the big trade- deadline news coming out of all-star weekend, with possible swapping partners rumored to be Boston, Brooklyn, Milwaukee and Phoenix—among several others.
"It is what it is," Smith told the Atlanta Journal-Constitution. "You have to understand, this is a business first. Once you get that in your head that it's a business first—it's never personal—you'll be pretty good in this league."
Which is exactly what Smith has been in Atlanta. In almost nine full seasons, he has averaged 15.2 points, 8.0 rebounds and 2.2 blocks per game. The former McEachern High School standout is shooting a career-best 35 percent from beyond the arc in 2012-13, but he has made a mere 29 percent of his treys overall. Playoffs have become the norm for this franchise, but not once has Smith led the Hawks to the Eastern Conference Finals. All in all, it has been a mixed bag for Smith in terms of both individual and team accomplishments.
The Hawks are not going to make the same mistake twice—that mistake being a max deal for a player who does not deserve max money (Joe Johnson, of course, was the beneficiary of Atlanta's first such blemish). They certainly aren't going to make that mistake with a competent Danny Ferry running the show. With Smith set to enter free agency this summer, a trade seemed to make a lot more sense than losing him for nothing four months from now, but Ferry decided to stand pat.
SECOND-HALF OUTLOOK
With Smith, the Hawks are a virtual lock to make the playoffs. They are seven games inside the cut line (ahead of ninth-place Philadelphia) and would be the No. 6 seed in the Eastern Conference if it ended now. That would pit Atlanta against Indiana in the first round. More importantly, Larry Drew's squad is three games clear of eighth-place Milwaukee, a spot it hopes to avoid because a series against anyone other than No. 1 Miami would be winnable.
"I know the players were looking to get away from the game and get away from each other," head coach Larry Drew told the AJC, "and just trying to get a fresh mind and finish the season on a strong note."