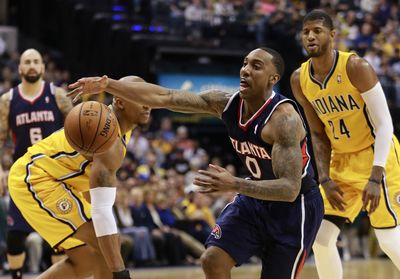 AJC/ R Brent Smith
The Pacers outscored Atlanta 49-40 in the second half en route to a series-tying 91-88 road win. Paul George led the Pacers with a team-high 24 points that came in a 2014 playoff-high 44 minutes. George finished 10-of-18 from the field and included four three-pointers. In the third quarter, George went off for 11 points and added four of his 10 rebounds. The exhausted 3-year pro said after the game that he expects a tough rest of the series.
"It's going to be a long series," said George. "This team [The Hawks] isn't going away. We just have to build some consistency."
The Hawks were plagued by turnovers and started the game and finished the game sloppy. Atlanta committed five turnovers in the opening and closing quarters.
The Hawks led 85-81 with 3:56 remaining and looked to be in control. Luis Scola hit jump shot to cut the deficit to 85-83. On the Hawks next possession, Jeff Teague slipped out-of-bounds on the baseline and gave the Pacers the ball back. Indiana took advantage and connected on back-to-back three pointers by Hill and David West to turn a two-point deficit to a four-point lead with 1:33 to play.
Kyle Korver gave Atlanta a chance and was fouled on a three-point attempt that brought it to 89-88 with 1:24 to play. Hill made a difficult scoop lay-up after pump-faking the three-pointer and extended the lead to 91-88 with 56.3 to play. With 32.9 to play, Atlanta's attempt to tie it up ended with a Paul Millsap turnover deep in the shot-clock. The Hawks got a gift after George missed a pair of free-throws to ice the game, but Pero Antic's desperation three fell short.
Millsap finished with a career-high 29 points, despite not scoring the final 8:53 of the game. Mike Scott added 12 points and Teague finished with 14 points and seven assists.
Falling late into the shot-clock was a visible concern during the Hawks' sloppy fourth quarter and head coach Mike Budenholzer addressed the issue in his post game press conference.
"I think at times the ball movement wasn't what we expected," said Budenholzer. "I think we need to attack earlier and be more aggressive earlier and move the ball better and hopefully avoid late clock situations."
The Hawks will visit the Pacers for Game 5 on Monday, April 28 at 8 pm.