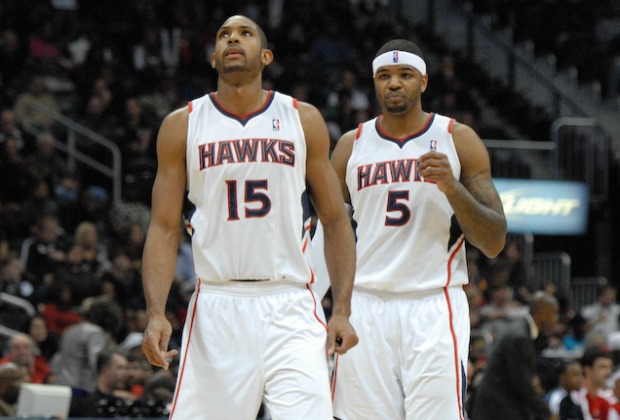 Jon Barash
The Hawks started the preseason with a win over the defending NBA champion Miami Heat, but have since dropped their last three games on the road to the Spurs, Grizzlies and Pacers. The losses have come by a combined 14 points, but Atlanta has given up over 100 points in each. The defense was the concern coming into camp, and Larry Drew has been focused on improving the defense throughout the first two weeks. The lack of size on the perimeter has been evident, and the Hawks have struggled, especially on screens.
Since the Mike Woodson era, the Hawks have switched on screens and are continuing to do so with a smaller lineup. They have been slow on switches at times and also have created mismatches for themselves by putting their smaller guards on the other teams' bigs. The defensive issues are more than just pick-and-rolls, but that has been the most glaring weakness the Hawks have shown in the preseason.
HOT SHOOTING
While the defense has struggled, the offense has been as advertised. The Hawks continuously pressure opposing defenses by pushing the pace and attacking the basket while spacing the floor with multiple shooters. Lou Williams has proven himself to be more than capable of filling the scoring void left behind by Joe Johnson, who averaged 18.8 point per game last year. While Williams may not score as many points due to more scoring options on the team, he ought to have more PRFs (points responsible for) because he will operate as both a facilitator and scorer.
EARLY SURPRISE
Damion James has also been surprisingly effective at the small forward spot and looks to have earned himself not just a roster spot, but also some quality playing time. James has played nearly 20 minutes a game in the preseason and leads the team with 6.7 rebounds per game. At 6-foot-7, James would be the only true small forward on the roster. He plays a brand of basketball that endears him to Larry Drew, who rewards players that crash the boards, make hustle plays and play physical defense. James will not start most games, as Drew will likely rotate DeShawn Stevenson, Kyle Korver, Anthony Morrow and Josh Smith at the starting spot depending on matchups, but he will see a lot of the floor with the second unit to provide a defensive presence with so many shooters and smaller guards.