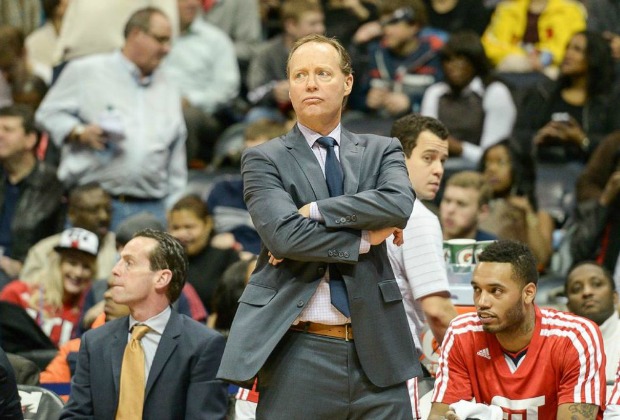 Photo by Jon Barash
It was announced Monday that the Atlanta Hawks have added Neven Spahija, one of the most successful coaches in Europe, to Mike
Budenholzer's staff as an assistant coach. Spahija brings with him 30 years of international coaching experience, most recently as head coach of Chigrona Zagreb in Croatia last season. But his experience does not just end there, as Spahija definitely has his passport covered with stamps following coaching stints in Tur- key, Slovenia, Lithuania, Israel and Spain. His teams won championships in all six of those countries.
"Neven is one of the most successful coaches in Europe and we're thrilled to add him to our staff," Budenholzer said in a statement released by the team. "As an organization, we have great respect for international basketball and we will benefit tremendously from his per- spective and his wealth of experience."
SWEET SIXTEEN ….
Hawks' forward Paul Millsap was on the chop block Monday following the conclusion of Team USA training camp for the upcoming FIBA World Cup. Still, Atlanta fans welcomed some good news coming out of Las Vegas, with Kyle Korver making the first round of cuts. The slick shooter is now one of 16 finalists being considered for the USA's national team that will wear the red, white and blue in Spain. Oth- er notables making the cut include Oklahoma City forward Kevin Durant, New Orleans center Anthony Davis and Houston guard James Harden—three members from the 2012 Olympic gold medal squad. The team is scheduled to resume its preparations for the World Cup on Aug. 14 in Chicago. The list of 16 must be cut down to a 12-man roster and submitted on Aug. 29, a day prior to the tournament opener.
STAYING PUT …
The Hawks agreed to terms with restricted free-agent forward Mike Scott on a three- year deal worth $10 million, it was announced last Friday. In response to the deal, the forward tweeted, "Glad to be back. #404."
Scott experienced a breakout season for the Hawks last year, averaging 9.6 points and 3.6 rebounds in 18.5 minutes per game while appearing 80 contests. Atlanta selected Scott with the 43rd overall pick in 2012 NBA Draft and has used him primarily in a reserve role. The 26-year-old, though, took a step forward with his 2014 production, shooting at a 47.9 percent clip from the field, including 31 percent from beyond the arc. He earned six starts during the 2013-14 campaign.