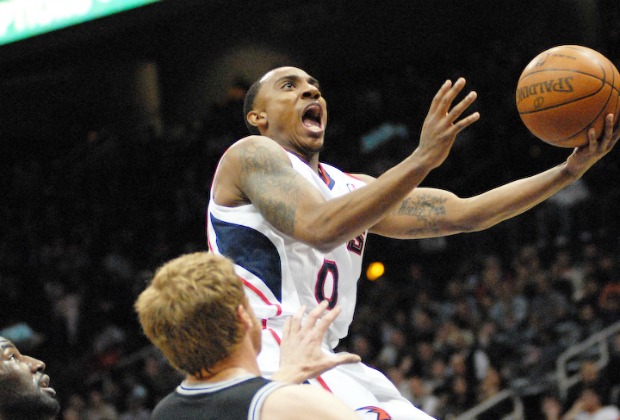 Jon Barash
With less than one month to go in the regular season, the battle for home-court advantage in the Eastern Conference first round is heating up nicely. Miami, which owns a 24-game winning streak, is at least 11 games up on everyone else in the conference. Not even second-place Indiana, however, is assured of enjoying the home-court edge in round one.
The Hawks are in fifth position at the moment, but to say the situation is fluid would be an understatement. They are just one game ahead of sixth place Chicago, but they are within two games of Brooklyn, three games of New York and four games of Indiana.
Prior to a Monday loss at home versus Dallas (which coincided with a win by the Nets over Detroit), the Hawks scored a crucial 105-93 road win at Brooklyn last Sunday. That momentarily allowed Atlanta to trail the Nets by a mere one game in the standings. A 14-point fourth-quarter margin in the visitors' favor ultimately made for a two-game swing. Josh Smith and Jeff Teague both made major contributions over the final 12 minutes and Al Horford (22 points, 11 rebounds, four steals) led the way from start to finish. Kyle Korver and DeShawn Stevenson each drained a pair of threes while Dahntay Jones chipped in 13 points off the bench. The Hawks' victory evened their regular-season series against the Nets at two wins apiece.
"Coming into this game were we concerned with the matchups," head coach Larry Drew told the Atlanta Journal Constitution. "The first three games we went big on them. This time we decided to go with our regular lineup and it turns out it was a good call by the coach. We were able to get out and run. Our speed and quickness was very obvious."
HARRIS TEETERING …
Devin Harris has made five consecutive starts with Jeff Teague suffering from an ankle injury. Teague returned to the starting lineup on Monday, but Harris still got a nod—this time at the expense of Stevenson. The former Net averaged 16 points and six assists over his first two games in the stretch and he scored 10 against Dallas. It remains to be seen how much longer Harris will be a part of the fiveman unit with Teague visibly progressing.