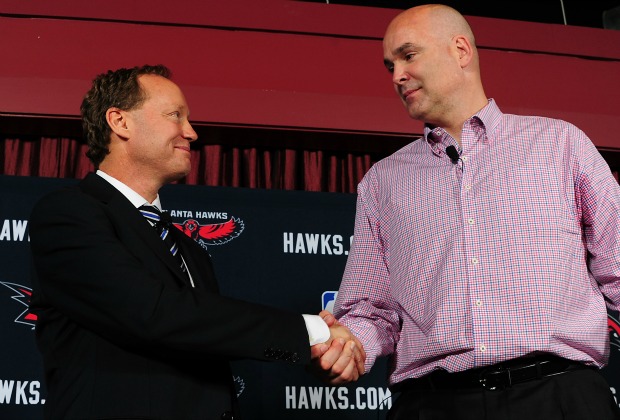 AtlantaHawks.com
This week has been an eventful one for the Hawks. They were bumped from the eighth seed by the Knicks after Wednesday's 105-92 loss at home to the Chicago Bulls, coinciding with the Knicks' win over cross-town rival Brooklyn. The Hawks had no time to lick their wounds, as they had to hit the floor Friday against Cleveland. The Hawks started fast scoring 39 points in the first quarter and lead- ing 62-49 at the half. Jeff Teague and Paul Millsap performed to their normal standards, but the story was reserve forward Mike Scott who hit 12-of-13 shots from the field in 20 minutes to score 26 points for the Hawks.
Two days later the Hawks traveled to Eastern Conference-power Indiana. The Hawks carried the momentum from their previous game and held the Pacers to just 23 points in the first half, and just 88 for the entire game. Jeff Teague's 25 points led five Hawks in double figures. The defensive effort De- Marre Carroll's gave a spectacular defensive performance holding Pacers star Paul George to just 6-of-17 shooting. The two-game win- ning streak combined with a second Knicks loss gave the Hawks a two-game lead over the Knicks with just five games remaining for the Hawks and four remaining for the Knicks. Unfortunately, the Hawks could not extend their hold on the eighth seed Tuesday, as they fell to the Pistons 102-102. Former Hawk Josh Smith did not play, but Andre Drummond picked up the slack with 19 points and 17 rebounds.
PLAYOFFS PROJECTION …
With five games left and a 1.5-game lead over the Knicks, the Hawks beat the Celtics Wednesday 105-97 before their games with Brooklyn and Charlotte. Those two teams have their seeds clinched and may rest some players against the Hawks. Miami has not yet clinched the No. 1 seed, however, Indiana coach Frank Vogel essentially conceded the one seed to the Heat earlier this week. Heading into the weekend, the Heat may already have the one seed and decide to rest their players as well.
Although it may be unlikely, if a playoff berth came down to the last day, the Hawks would play the worst team in the NBA, Mil- waukee Bucks, and the Knicks would be faced with the Toronto Raptors, who would most likely still be battling for positioning. If you are a Hawks fan, you have to be confident in their chances to clinch their seventh straight playoff appearance.