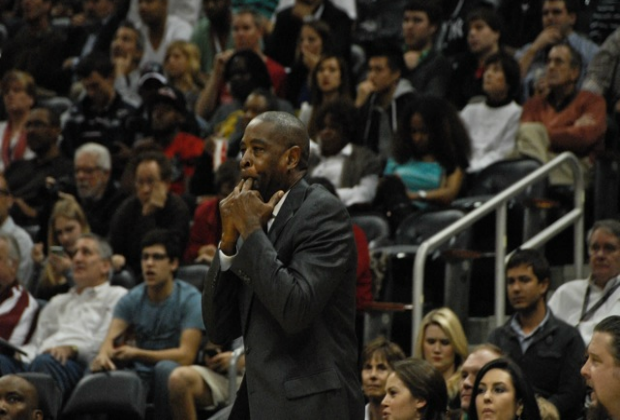 Jon Barash
Tuesday marked the first full day of the Danny Ferry era of Hawks basketball, and it began with the Hawks working out Kansas G Tyshawn Taylor, Washington G Tony Wroten, Jr. and French G Evan Fournier. With just two days before the draft, the Hawks got to watch three guards that could come in and contribute in their first year.
Wroten has the most potential upside to his game, coming out after his freshman year, and he is a dynamic athlete that excels at getting to the rim. Wroten is not a true point guard and at 6-foot-6, has the ability to play either the one or the two. The knock on Wroten that keeps him out of the lottery is his perimeter shooting. Wroten is sporadic at best from the outside and struggles to consistently knock down jump shots. Despite these concerns over his shooting — which the Hawks feel can be fixed with hard work in the gym — Wroten is an intriguing prospect because of how raw he is.
Wroten, who many have projected to the Hawks at No. 23, would see the majority of his playing time as the backup point guard to Jeff Teague. At this point in his career, experts feel Wroten is at his best with the ball and attacking the paint. If he develops his jumper and can become more consistent as a shooter, Wroten could thrive as a quality combo-guard in this league with the ability to switch between point and shooting guard.
Tyshawn Taylor is another potential prospect for the Hawks to fill that backup point guard position. Taylor's off-the-court struggles have raised questions about his maturity, but the Hawks and coach Larry Drew were pleased with how open and honest he was in discussing his mistakes of the past. The Hawks believe that he was in an unfortunate circumstance and that he has moved on and would not be a liability off the court.
On the court, Taylor is a point guard with plenty of experience running an offense. He spent four years at Kansas, where he also evolved into one of the better defenders in the draft at the point. Taylor, like Wroten, struggles with hitting jumpers consistently and would need to improve his outside shooting. He is not as dynamic as Wroten at getting to the rim, but Taylor has good speed and quickness which allow him to create space on the offensive end and keep up with quicker point guards on the defensive end.
Taylor is projected in the second round and could be a possibility at 43 for the Hawks if they decide to go with a big man in the first round. Taylor would be a good value in the second round because he possesses the qualities of a professional player right now and can contribute immediately. While he is unlikely to get too much better over the course of his career (one of the knocks on him is that he's already tapped his potential), Taylor is more of a sure thing than young guys that you hope "smell the coffee" and realize their potential.
"How many of those guys actually end up 'smelling the coffee?' Not many," said Dave Pendergraft, Hawks Director of Player Personnel.
Fournier is known for his scoring and is a projected late first-round pick. The 19-year-old Fournier is more of a pure shooting guard rather than a combo guard like Wroten, who can handle it as well. The Hawks want to look some more at Fournier and will be bringing him back in on Wednesday for another workout. The only knock on the Frenchman is his defense, or lack thereof.
If Tuesday was point guard day, Wednesday will be sharp-shooter day. Fournier will be joined by Kentucky G Doron Lamb, Kentucky F Darius Miller, Vanderbilt G John Jenkins and Missouri F Kim English.
Lamb, Jenkins and Fournier are all returning for their second workout with the Hawks, and that is in an effort to get an even better feel for their shooting consistency and to ensure they did not have just a good or bad day on the first workout. Since all three are primarily shooters that do not add much defensively, it is important for the Hawks to find out who the true sharp-shooters are. Jenkins impressed in his first workout, and, if he can drill shots like he did last Sunday, he could be move on up the Hawks draft board.