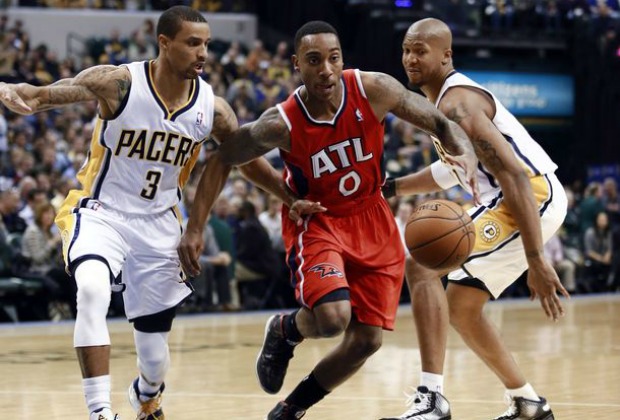 Photo by R Brent Smith
The Pacers outscored visiting Atlanta 53-33 in the second half to even up the series 1-1 with a 101-85 win. Paul George led the way with 27 points and 10 rebounds while shooting 9-of-16 from the field.
In the first half, David West got in early foul trouble and Luis Scola came up big after netting just two points in Game 1. Scola played just 19 minutes but finished with 20 points (way above his 7.6 ppg season average) off 9-of-14 shooting from the field.
"He hit a lot of shots," said Hawks head coach Mike Budenholzer. "Several of them were contested and contested well…They've got so many guys that can attack and be a threat that we have to be more conscious to getting back to Louis Scola. He had a heck of a game and that's a credit to him. Now our challenge is to make those shots even harder."
West returned to the floor to help spark a 25-2 run that began in the third quarter and extended through the first eight points of the final period. Game 3 tips off at 7 pm on Thursday at Phillips Arena.