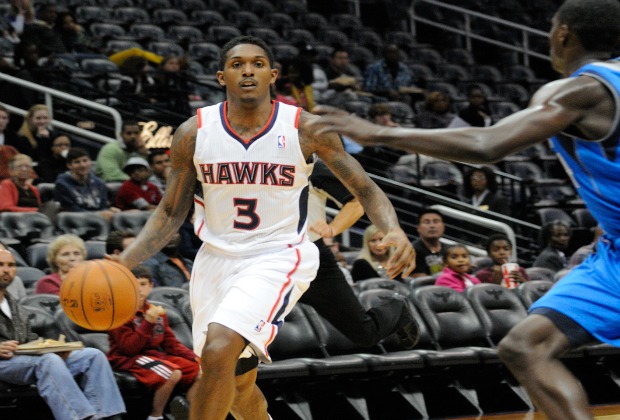 Walter Pinion
The Atlanta Hawks made a number of moves this offseason including trading their lone All-Star from 2011-12, Joe Johnson, and former second-overall pick Marvin Williams to acquire mostly expiring deals that will leave them with approximately $40 million in cap room next season, pending the cap number. Despite the apparent rebuilding phase that the Hawks are in, they still remain a threat to earn a solid playoff seed in the Eastern Conference. For the first time in his three years as head coach, Larry Drew has a roster that fits his motion offense and desire to move the ball.
With Johnson, the Hawks did not move the ball as quickly as they will this year because of Johnson's preference to run slower sets and play on the ball in isolation sets. Johnson's production last year came largely from his growth as a three-point shooter. He ranked 10th in the league in three-pointers made (125), but was ninth in three-pointers attempted (322). His volume of shooting left him at 38.8 percent from behind the arc, his best season from distance as a Hawk, and three-pointers accounted for 33.2 percent of his points for the season (375 of 1129), the highest percentage in his Hawks career. Williams also shot a career high 38.9 percent from three last year and 30 percent of his points came from behind the arc (174 of 579).
This improvement came from an increased number of corner threes taken by the Hawks, which were often created off of penetration by Jeff Teague. The Hawks' offense will be even more predicated on pick-and-rolls and Teague (or Lou Williams or Devin Harris) facilitating from the paint this season, which should produce a lot of open threes and high-percentage corner-three opportunities.
LONG-DISTANCE SUCCESS
The Hawks have replaced Johnson's and Williams' three-point production with a bevy of sharp-shooters who will be able to take advantage of those open looks. Kyle Korver was just seven made three-pointers behind Johnson, putting him 10th in the NBA. Korver did make 118 threes on just 271 attempts for an incredible 43.5 percent shooting from three.
Anthony Morrow was tied for 19th in the NBA (with Ray Allen) in three-pointers made and his 106 makes came on 286 attempts for a shooting percentage of 37.1 percent from distance. Morrow also was on a bad team that was forced to try and shoot their way back into games, so his percentage should go up from getting better attempts.
DeShawn Stevenson struggled with the Nets last season, shooting just 28.3 percent from three, but the Hawks expect Stevenson to play more like he did on Dallas in 2010-11 (the Mavs' title season) when he was asked to be a defensive presence and provide offensive spacing, the same role he will play for the Hawks. That year DeShawn shot 37.8 percent from three and an incredible 73.6 percent of his points came from distance.
Those three, plus rookie John Jenkins, will provide more three-point firepower than last year when the Hawks were fifth in the league in three-point percentage.
NEW ROLES
Williams was added to the team to provide a Jamal Crawford-like scoring quality back to the Hawks, who lacked a bench threat last season. Williams, who will play mostly off the bench, has the ability to score in bunches, as evidenced by him leading the Sixers in scoring despite not starting. Williams is one of the best pure scorers in the league and has an incredible ability to create his own shot when plays break down, even more effectively than Johnson. Williams will give the Hawks the ability to rest their starters without having a drastic drop-off in scoring. With Williams along with the other shooters, this year's team should avoid the lulls in offensive output that plagued last year's team when the starters would come out.
This year's squad will have defensive liabilities on the wing, but the Hawks have made adjustments to improve pick-and-roll defense and are utilizing their speed better on defense. Teague and Smith are two of the league's best thieves, and Smith can erase defensive mistakes at the rim with his blocking and ability to alter inside shots. The Hawks' defensive ranking will drop from last year when they ranked sixth in the NBA in points against, but their offense will improve from the 17th-best in the league to be one of the most potent, which in turn will bring their opponents points per game up. This team is not a title contender right now but can absolutely earn a No. 4 or No. 5 seed in the East.