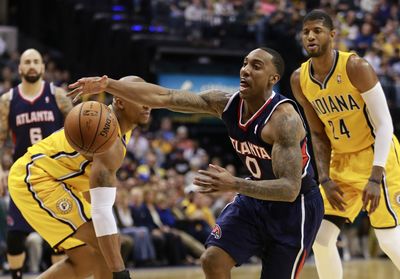 AJC Brent Smith
For the first time in September, the Atlanta Hawks had the opportunity to focus on just basketball. The Hawks opened training camp on Tuesday at the University of Georgia as they looked to put away the distractions caused by the racially-insensitive remarks of part-owner Bruce Levenson and general manager Danny Ferry that were made public earlier in the month. Ferry is currently on indefinite leave from his position with the team, but he has met with various Atlanta players to address the is- sue, including all-star forward Al Horford.
"He was very remorseful," Horford re- marked to Myrtle Beach Online. "He understood what he had done and he's trying to move forward and make it right."
As for on-court basketball matters, Atlanta currently has 17 players on its training- camp roster after extending invitations to cen- ter Dexter Pittman and former Virginia Tech guard/forward Jarell Eddie. Pittman has played sparingly over five NBA seasons with three teams, including the Hawks in 2013-14 when he appeared in two games, playing just three minutes.
"It is right at home and it feels right," Pittman told Chris Vivlamore of the Atlanta Journal Constitution. "It's a great family atmosphere here and you don't see that a lot with professional teams. I'm going to work my butt off every day and whatever happens, happens."
For Eddie, he heads into camp off the end of a four-year college career with Virginia Tech, including a senior season that saw the guard/ forward average 13.3 points and 5.4 rebounds per game.
"Going into the season I felt my best opportunity to make a roster and have an impact on the game is with the Hawks," Eddie stated.
HUMAN-HIGHLIGHT ADVISOR …
The team announced on Monday that Atlanta Hawks' legend and NBA Hall of Famer Wilkins will become the special advisor to Hawks' CEO Steve Koonin. Wilkins was signed to a long-term deal and will also continue per- forming his duties as the team's vice president of basketball operations.
"Steve Koonin and I are going to be doing a lot of things together on the business side as well as basketball," Wilkins said during the team's media day. "For me, I'm excited about it because, to me, the most important thing is how we continue to build our brand in light of some of the things that have happened of late."