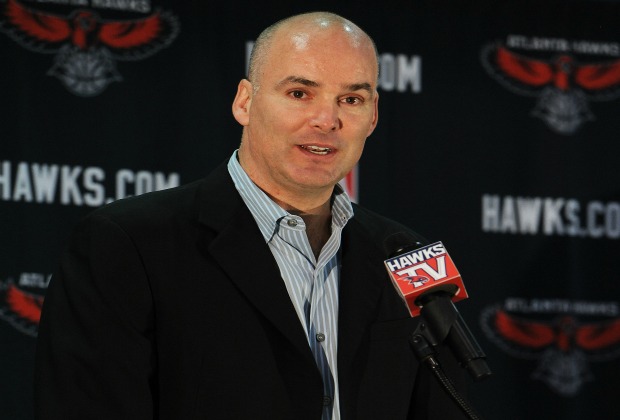 Atlanta Hawks
I have been going to Atlanta Hawks games since Dominique Wilkins was still dunking and for the far majority of my life as an Atlanta native, I have grown accustomed to quiet offseasons when it comes to the hometown Hawks. This offseason was the same way as the rest of the NBA was in a fury over the amount of big-name free agents. The likelihood of Atlanta making a splash in the big free-agent market were slim to none, and we all knew that. Now, the 2014-15 season approaches, and the Hawks are at the center of the NBA world and for all the wrong reasons.
After racially-charged comments made by general manager Danny Ferry about Luol Deng came to light this week, a much bigger story has unraveled. Ferry's comments came on a conference call in June with team brass regarding Deng and the potential to sign him during free agency. Ferry said, "He [Deng] has a little African in him. Not in a bad way, but he's like a guy who would have a nice store out front but sell you counterfeit stuff out of the back."
Complaints about this comment went to the League office. Co-owner Michael Gearon Jr. has demanded Ferry's firing since June and said in a letter, "We are appalled that anyone would make such a racist slur under any circumstance, much less the GM of an NBA franchise on a major conference call. One of us can be heard on the tape reacting with astonishment. Our franchise has had a long history of racial diversity and inclusion that reflect the makeup of our great city. Ferry's comments were so far out of bounds that we are concerned that he has put the entire franchise in jeopardy."
This originally launched the investigation that uncovered Hawks owner Bruce Levenson's email regarding the type of crowds at Hawks games.
"My theory is that the black crowd scared away the whites and there are simply not enough affluent black fans to build a significant season ticket base," Levenson wrote in the e- mail. The e-mail also claimed the Hawks were attracting an "overwhelming black audience" and noted that "there are few fathers and sons at the games."
UNFORGIVING ACTIONS …
These comments offended the black community, but regardless of your background, Levenson's email should personally offend you. I do not go to nearly as many Hawks games as I used to. Maybe four times a year if I'm lucky. But Levenson just categorized me and all the other white people in this city. His email shows that he believes when we do not come to games that it is because we are scared of the black crowd.
I can respect him self-reporting his mistake to the NBA, but this is an issue that is no where close to being fixed. Why would an owner put his own racist judgments into the motives of the whole city? The focus should be on building a winning team and not on what culture someone on the "kiss cam" is or what music is playing.
I don't go to Hawks games that often because it is expensive and there are other things I'd rather be doing. It's that simple. It isn't because of the fans at the game and it isn't because I do not care about the team. In the hundreds of games at Turner Field, the Georgia Dome and Philips Arena, I have never felt scared at any one of them.
SO NOW WHAT? …
The Hawks are going to have to move on. I think Danny Ferry did a great job building the team and freeing up cap space, but the franchise must see some sort of drastic change to truly move forward. We couldn't get the big-name star before and with Ferry still on board, I do not see how the team lands any more All-Star talent.
When it came to sitting in the stands and watching Wilkins play as a young kid, I can tell you it was worth the price of admission for the fans that spent their money to watch him play. This is a star-driven league.