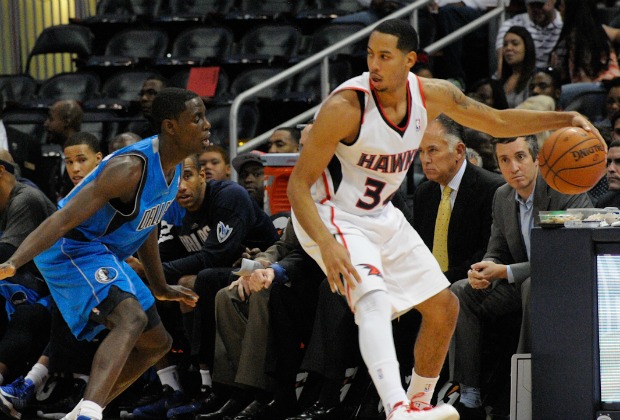 Walter Pinion
The wait is over. The 2012-13 NBA season is here. It's time to find out what the new-look Atlanta Hawks are all about.
In the past, you didn't even have to wait for the regular season to know what this team would deliver. The Highlight Factory was by no means a bore, but the end result was always the same. Consider the Hawks' recent finishes, starting with the 2008-09 campaign: 47-35 record, fourth place in the Eastern Confernce, lost in the second round of the playoffs; 53-29, third in the East, lost in the second round; 44-38, fifth in the East, lost in the second round; 40-26, fifth in the East, lost in the first round. Atlanta was a respectable ballclub, but nowhere near elite and with no direction toward ever becoming elite.
Finally, however, a change has come. Gone are six-time all-star Joe Johnson and his max contract, relative bust of a No. 2 overall pick Marvin Williams, plus veteran backups Jason Collins, Kirk Hinrich, Tracy McGrady and Vladimir Radmanovic. Joining the fray are Devin Harris, Kyle Korver, Anthony Morrow, DeShawn Stevenson, Louis Williams and rookies John Jenkins and Mike Scott.
THE FUTURE
Speaking of former No. 2 overall picks, one is the new brains of the Atlanta Hawks operation. Danny Ferry, a former Duke standout who was selected in the second spot of the 1989 draft by the Los Angeles Clippers, hopped on board in late June to become Atlanta's new general manager.
Former GM Rick Sund did a nice job putting together a solid roster, but he was obviously content with his team being somewhere between mediocre and good. It's just as obvious, however, that Ferry cannot stand the thought of mediocrity. In fact, Ferry could not even tolerate that culture for more than one week.
The former NBA champion (2003 with San Antonio) was hired on June 25 and by July 3, both Johnson and Williams had been shipped out of town. In exchange for sending Johnson to Brooklyn, Ferry and the Hawks received—among others—Morrow and Stevenson. Atlanta fans likely would have been content to see Williams leave without getting anything in return, but Ferry landed the extremely capable services of point guard Devin Harris from the Utah Jazz.
As if Ferry's mentality was not evident enough from the moves themselves, he spelled it out in no uncertain terms during an August interview with grantland.com.
"We had a good making-the-playoff run, but we hadn't had a good playoff run, if that makes sense," he explained. "And the goal is to have a good playoff run. That was going to be hard to sustain with how we were set up…. The best we could do was status quo, and that wasn't good enough for anybody. We recognized that to get better, some changes had to happen."
QUICK CONTRIBUTIONS
While Ferry's ultimate goal may be freeing up cap space for the flexibility with which to build a contender of the future for years and years to come, some of his transactions appear to be paying immediate dividends. Take the incoming Williams, for example. The South Gwinnett alum is averaging 20.5 points, 4.5 assists and 2.5 steals through two games as of Wednesday. He also played every single second of the first two fourth quarters and scored 27 of his 41 total points in those frames, continuing his "Mr. Clutch" role that he also seized during his tenure with the Philadelphia 76ers.
"Over the past four or five years of my career, the fourth quarter has probably been my best," Williams told the Atlanta Journal Constitution after winning at Oklahoma City last Sunday. "I've always gotten off to slow starts for whatever reason. I just pick it up in the fourth quarter. It's something I've done in the past and something I want to bring to this team."
Stevenson, meanwhile, poured in four three-pointers in six attempts in a season-opening loss to Houston. He added two more from long range in the Josh Smith-less upset of the Thunder, including the game-clincher with the Hawks leading 97-91 and little more than one minute remaining. Morrow, who also has Atlanta ties—along with Williams— having played college ball at Georgia Tech, made both of his field-goal attempts against the Thunder and had three of the team's 12 steals in just 14 minutes of action.
OUTLOOK
Although the Hawks did well to battle back from a constant deficit to take a brief, fourth-quarter lead against Houston, their season-opening loss was a bit of a disappoint- ment. But they could easily have been 0-2 after last Sunday, facing the defending Western Conference Champions without Smith, arguably their best player. That a shorthanded Atlanta squad went on the road and stunned one of the NBA title favorites speaks volumes about this team's depth.
So far, contributions have come from every which way—from the old to the new. Smith went for 18 points, 10 boards and three blocks against the Rockets, Zaza Pachulia added 13 and eight, Al Horford recorded a double-double in game two and Williams was stellar in both contests.
"That is fine," starting point guard Jeff Teague told the AJC, referring to Atlanta's fourth-quarter focus on Williams. "We are all here to win. Whatever we have to do to get a win, we are all with that. Lou had it going (against the Thunder) and we were all rooting for him. We were all excited to get a win. There are going to be nights like that. I might have it going. Lou, Devin, it doesn't matter. We all want to win. We are all Hawks. It doesn't matter who is playing."
That is a refreshing mindset, especially with this city having endured an era of isolation set after isolation set for Johnson. It's a mindset that started at the top and is already funneling through the whole organization. It's a mindset that will pave the way for future success, and one that might even allow the Hawks to start winning right now.