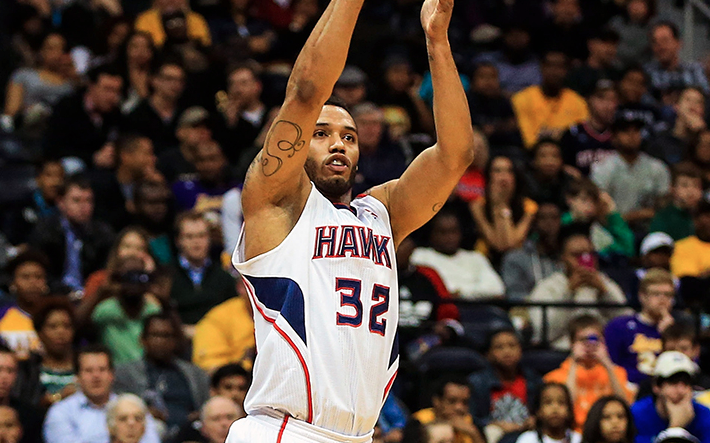 Photo by Daniel Shirley
The Atlanta Hawks rewarded Mike Scott for his breakout season in 2013 by re-signing him to a three-year deal for a reported $10 million, the terms of the deal according to the AJC. The third-year forward vastly improved after a sub-par rookie season and became a key weapon off the bench for head coach Mike Budenholzer.
"(Scott) has worked hard and continues to adapt, improve and expand his all-around game," said general manager Danny Ferry. "We are very happy to have him with us going forward and we look forward to his continued growth with our group."
Scott played in 80 games last season, shooting 47.9 percent from the field while av- eraging 9.6 points and 3.6 rebounds per game.
MACK IS BACK …
The re-signings did not stop there as the Hawks brought back restricted free agent Shelvin Mack, who is projected to maintain his role from last season backing up starting point guard Jeff Teague. Just like Scott, Mack experienced a breakout season under the tutelage of Budenholzer, averaging 7.5 points to go along with 3.7 assists and 2.2 rebounds in 73 games. Those numbers from the fourth-year guard were convincing enough for Ferry to re-sign him.
"Shelvin has proven himself to be an excellent fit in our program," Ferry explained. "On the court, he plays well within our system and possesses a toughness and level of unselfishness that we truly value."
This gives Atlanta a dangerous trio at point guard, having brought back the veteran Teague along with Dennis Schroeder— who, various reports have said, has vastly improved while playing overseas this summer.
ADIOS EDY …
Second-round pick Edy Tavares announced on Tuesday his intentions to return overseas to his club team, Herbalife Gran Canaria in Spain's ACB League. The 7-foot-3 center played for the Hawks in the Las Vegas Sum- mer League, showing the potential that drove Atlanta to draft him 43rd overall.
"The summer league of the NBA was a great opportunity to play against good play- ers," Tavares said through an interpreter. "I have seen how they play and how they work. The work that I was doing was little from what I've seen there and I have to work harder to become a better player."
The Cape Verde native averaged 6.0 points, 4.3 rebounds and 1.8 blocks in six summer league games.