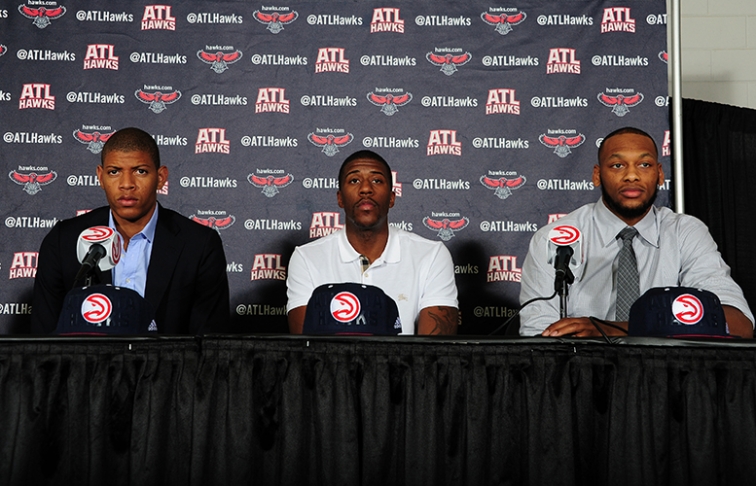 Scott Cunningham/NBAE/Getty Images
In the past two weeks, the Atlanta Hawks have sent Lou Williams to the Toronto Raptors, signed free-agent Thabo Sefolosha from the Thunder and added three players during the 2014 NBA draft with first-rounder Adreian Payne and second-round selections Walter Tavares and Lamar Patterson.
GROWING PAYNE …
Finding pieces that fit the team's mold in the draft was the first challenge and the Hawks walked away from it elated with their selections. At 6-foot-10, Payne (No. 15 overall pick) is a true power forward that starred under legendary head coach Tom Izzo at Michigan State, a program that Hawks general manager Danny Ferry says the organization is familiar with and trusts.
"Michigan State guys are guys that we like," Ferry said during the draft press conference. "They play with a high level of competi- tiveness. It's a program that we greatly respect. Obviously, he's been raised the right way by Tom Izzo at Michigan State. (We are) excited to have him."
Payne improved his production every year at the school and averaged 16.4 points per game his senior season while hauling in double-digit rebounds for the second year of his career. Payne stepped into his role with the Spartans and saw action in 34 games his freshman season while averaging just 2.5 points per game and 2.4 rebounds. The following year his production increased to 4.2 rebounds per game and he chipped in a much-improved seven points per game.
By the end of his junior year, he was on both the preseason Naismith and Wooden Award watchlists. Payne's ability to show improvement each year is one of the many qualities Ferry and the organization liked about Payne heading into the draft. Payne's athleticism on the boards and in the paint paired with his range makes him the ideal fit for the Hawks. The Hawks' offense operates at an uptempo pace and uses its outside shooting and ball movement to spread the floor. Payne's skill set satisfies both of the offense's key ingre-dients and the Hawks noticed this match while making their decision to draft Payne.
"We want to play with pace and space," Ferry said. "Adreian is someone who can do both from being able to run the court and com-pete on both ends while being able to shoot the basketball. He fits into the way we want to play."
Payne went through his round of media sessions in New York after being selected and called in to talk briefly about his role on this team and what he's looking forward to when he puts on the Hawks jersey.
"I'm very excited to play in this system," said Payne after being drafted. "The offense in Atlanta is my style of play and Coach Bud [Mike Budenholzer] is a great coach. I really am just excited and looking forward to getting down to Atlanta and getting to work."
Payne has been in the collegiate spotlight for his work on and off the court and showcased his ability to thrive in big moments by posting a polished 41-point game against Delaware this year in the NCAA tournament. The Hawks were at the bottom of the league in rebounding this year and having a scorer with Payne's ag-gressiveness on the glass is the perfect piece to take pressure off a healthy Al Horford. Payne has the versatility shared by his counterparts in the front court and the more roles he can fill, the quicker he'll be able to make his impact.
"I'm a versatile player and that's the way I play the game," Payne said. "I can guard different positions. I can play inside and out, defensively and offensively."
THE SECOND-ROUNDERS … Atlanta went international with its next draft selection while also choosing the biggest prospect in this year's draft with Walter Tavares. The 7-foot-3 Cape Verde native plays for Spain's ACB League, which is considered the next best league in the world to the NBA. Tavares is a developing prospect, but the upside and combination of size and ability was too much for the Hawks to pass on.
"We felt like it was a good risk to take," said Ferry about drafting Tavares. "We look forward to helping him develop going forward."
The Hawks picked up Patterson through a trade with Milwaukee that sent Atlanta's second-round pick next year to the Bucks. Patterson is a 6-foot-5 shooting guard that was taken 48th overall. He has four years of collegiate experience under his belt while playing at Pittsburgh. Patterson posted 17.1 points per game while averaging 32.6 minutes per game last season.
Payne and Patterson each come in with a ton of experience and success at the collegiate level. Tavares on the other hand, is the young one out of the picks. However, he'll enter the league as one of its biggest current players and his all-world size gives him an edge. Developing players is a process that the organization is very confident about.
"We develop everyone on this team," said Ferry. "Kyle Korver got a lot better last year as an example. As an organization, we put a focus on all our players to continue developing." The Hawks established structure despite a string of injuries during Budenholzer's first season with the team and their flexibility with cap space puts them in great shape heading into the 2014-15 season. Atlanta boasts the second longest postseason streak in the NBA with seven consecutive appearances.
FREE-AGENT MOVES …
The trade that sent Williams to Toronto also sent 2013 Atlanta draft pick Lucas Nogueira to the Raptors while importing Raptors veteran guard John Salmons. With the option to wave Salmons and use cap space to continue shopping free agency, the organiza-tion was busy hosting some of the big names in free agency. Luol Deng sits atop the Hawks' wishlist and Atlanta has pushed hard to bring in the two-time All-Star. While the Deng deal remains a possibility, the Hawks picked up Sefolosha.
The former Thunder swingman agreed to a three-year $12 million deal that came fully guaranteed. Sefolosha is coming off a poor 2013-14 season but if he returns to form, this would be a major bargain at just $4 million per year.
Atlanta's weakness last year was out on the wing and Korver and DeMarre Carroll were forced to play through injuries throughout the season during the Hawks' playoff push. Sefolosha has the ability to have a significant impact both offensively and defensively on the wing and will help free up Korver and the three-point shooting of the Hawks. The native of Switzerland is known for his defense that earned him second team All-NBA in 2010 and his three-point shooting. During the 2012-13 season with the Thunder, he set career highs with 108 3-pointers made and 7.6 points per game