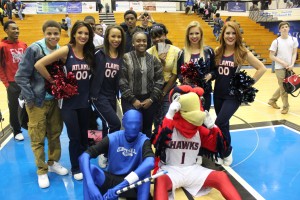 On Monday, February 10th, the Hawks traveled up GA-400 to hang with the students of Centennial High School. The reason the Hawks were at the Roswell school was to honor them for being named "School of the Week" which was presented by the Georgia National Guard.
The ceremony took place at Centennial's pep rally where they honored their senior winter sports athletes. Former Hawks Player and current Hawks Live analyst, Mike Glenn, spoke to the students and congratulated them for being chosen School of the Week. Glenn even had the entire student body chanting in unison "We are the Best!" He then introduced the Atlanta Hawks Cheerleaders, who proceeded to give away t-shirts to the excited crowd.
Sgt. Hudson, the National Guard Centennial recruiter, was introduced shortly after the cheerleaders had their fun. Glenn then thanked Hudson and the rest of the National Guard for their work during recent winter weather emergencies. Hudson went on to speak to the students about how the National Guard can help students with college plans.
Afterward, Hudson presented Centennial principal, Kibbey Crumbley, with an autographed basketball signed by Glenn and current Hawk Lou Williams. Crumbley joined in on the fun taking a shot from half-court only to hit Harry the Hawk instead of the basket. Harry the Hawk then shot the ball from half-court over his head and missed the shot by just a few inches. The event ended with the Hawks Cheerleaders giving away four Hawks tickets to one lucky student.
The School of the Week award is presented by the Hawks and the National Guard. Each week the Hawks will recognize a school in the Atlanta for its work on the court and in the classroom.
For more information on the Hawks' work in the community, go to Hawks.com, then the community section for a calendar of events, appearances requests and for information about the NBA Cares program. For more information on what the National Guard does or how to become part of this elite group, go to nationalguard.com