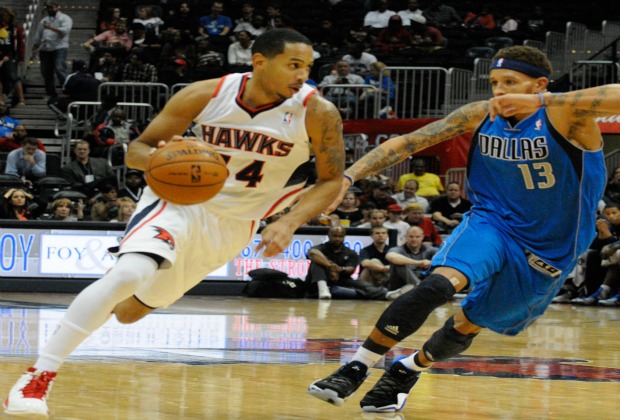 Walter Pinion
The Hawks' 2012-13 season got off to an inauspicious start when they lost at home to Houston last Friday night. Newly-acquired Rocket James Harden went off for 45 points to help the visitors withstand an Atlanta charge. The Hawks trailed most of the way only to take an 88-87 lead early in the fourth quarter before Houston pulled away for a 109-102 victory.
Atlanta's second game of the season may have gone relatively unnoticed by this city's fans, as it took place simultaneously with the Falcons' Sunday Night Football showdown against Dallas. But it cannot be overlooked. The Hawks traveled to Oklahoma City facing the prospect of an 0-2 start, as they were battling the defending Western Conference Champions without Josh Smith (sprained ankle).
Instead, a determined Atlanta squad went into Chesapeake Energy Arena and silenced the heavily-favored Thunder with a 104-95 upset victory. Larry Drew's crew, which outscored Oklahoma City 29-21 in the fourth quarter, got a double-double from Al Horford (23 points and 12 rebounds) and 19 points from Lou Williams. Jeff Teague chipped in 16 points and had three of the Hawks' 12 steals.
"If you look at it before the game probably a lot of people didn't give us any kind of chance," Horford told the Atlanta Journal Constitution. "It just shows the character of this team. This was a team effort we are pretty proud about."
SWEET LOU
Williams, a South Gwinnett alum, is back in Atlanta and already playing some of the best basketball of his career. The former Philadelphia 76er preceded his performance against Oklahoma City with a 22-point showing in the season opener. He is also averaging 4.5 assists per game, 2.5 steals per game and he has been to the free-throw line 16 times (made 14).
Although Williams' uniform has changed, his propensity for late-game heroics has not. Previously Philadelphia's go-to guy in the fourth quarter, Williams is up to more of the same tricks in Atlanta. He has played every single second of the two final frames this season (through two games as of Wednesday) while scoring 27 of his 41 total points. He is 11 for 11 from the charity stripe in fourth quarters.
"From a coaching standpoint, you are going to ride the hot hand," Drew told the AJC. "I don't care who it is. In a situation where somebody is playing well, somebody is in a rhythm, somebody is having a good quarter, you ride that."