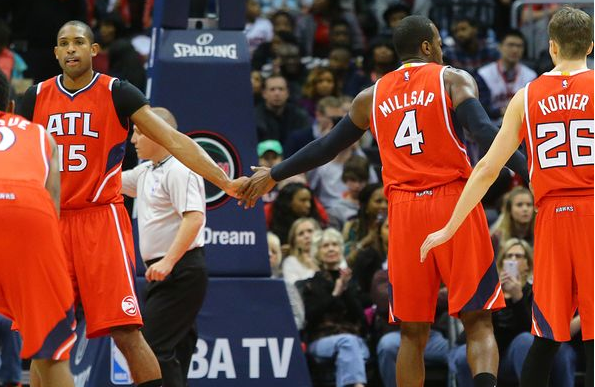 Photo by Curtis Compton/AJC
The first-place Atlanta Hawks used a 93-82 victory over the Pistons on Monday to stamp their 13th straight win and pull within one victory of the franchise record of 14 consecutive wins that was set in 1993-94. A sellout crowd packed Phillips Arena as the franchise hosted a Martin Luther King Day game for the 16th straight year.
Atlanta opened with an 11-2 lead but would go the next 4:48 without a basket as the Pistons cut the deficit to 11-10 and Detroit's Andre Drummond cleaned up the glass on nearly every missed shot. Drummond ended the quarter with a layup that brought the Pistons within four points (16-12) and he would finish the quarter with 11 rebounds to add to his eight points.  Drummond and the Pistons continued dominating the glass and out-rebounded Atlanta 61-42 by the final buzzer, however, the Hawks' defense never lost control of the game and showed why it has led the League in points allowed per game this season (96.3).
"I covered my eyes sometimes when the ball went up to the rim," admitted head coach Mike Budenholzer. "It's not for lack of effort. … We're prioritizing transition defense and getting back."
The 12 points in the first quarter for the Pistons is a season-low and they would go on to connect on only 35.4 percent shooting on the game (29 of 82).
"Our defense has got to be there every night and I think that is what put us in position to pull out a tough win," explained Budenholzer.
The Hawks struggled shooting throughout the game against a Detroit team that Budenholzer accredits as 'great' on that end of the court, but Atlanta's bench, which has made contributions throughout this season, came up big once again.
Mike Scott netted 20 points in 21 minutes off the pine and added five rebounds and two steals.
"We needed someone to score because a lot of us were off in the first half," said Kyle Korver. "Mike came in and gave us that spark."
Paul Millsap matched Scott with a team-high 20 points and Al Horford (14), Korver (13) and Jeff Teague (10) also reached double-digit scoring to lead Atlanta's balanced effort.
The Hawks (34-8) host the Pacers on Wednesday before finishing the week at home with the Thunder on Friday and the Timberwolves Sunday.