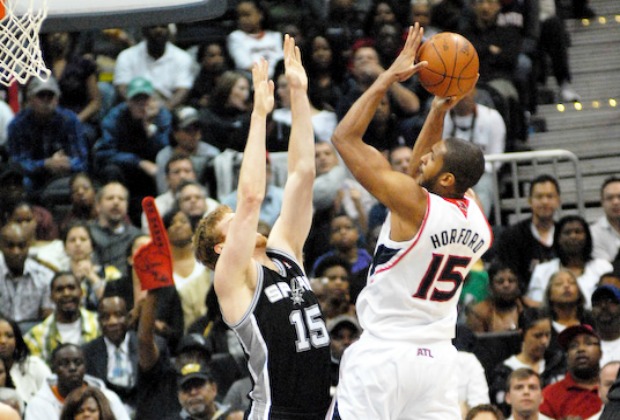 Photo by Jon Barash
Following a strong start, the Atlanta Hawks have lost their star in Al Horford and have struggled to adapt. The offensive and defensive games have each taken a hit and the overall team chemistry is lacking without his steady presence in the lineup. A rotation of Pero Antic, Elton Brand and Mike Scott is being utilized to try and simulate the production lost to a torn right pectoral. While the Hawks know they cannot replace Horford, they have other options to look to for production in the form of a spryer Lou Williams and another first option in Paul Millsap.
STEPPING UP …
Since Horford's Dec. 26 injury, Millsap has seen his usage percentage grow from 23.3 to 29.1, showing that head coach Mike Budenholzer has put his faith in Millsap to win games and carry the load offensively. With more of the offensive burden, Millsap has been vis-ibly gassed on the defensive end—which can be seen in his net rating of zero, meaning hes allowing the same number of points per 100 possessions as he is scoring. Another player who has stepped up is Jeff Teague, who has scored in double-digits in every game since Horford's departure for the season. Even though his scoring is up, Teague still needs to learn how to utilize Millsap as a weapon on offense to create more shots for himself, as well as finding open looks for his teammates. This can either come from the pick-and-roll game with Millsap or the drive-and-kick to facilitate the shooters on the wing. This will allow Kyle Korver to get back into the offense after having a brief lull in the past few games. The team is progressing in its movement into a new structure on offense and time will allow each player to feel more comfortable with his role.
MARTIN RELEASED …
Cartier Martin was released on Tuesday, a move that gets the roster down to 14 players and opens up a spot to sign a necessary piece to a 10-day contract once that becomes an option next Monday. This will provide some flexibility for the Hawks as the season moves along. It also leaves the roster open for more manageable trades by taking on an extra player. This should allow Danny Ferry to make any moves he deems fit to provide the team with the best chance to win now, while also structuring the organization for sustained success in the future.