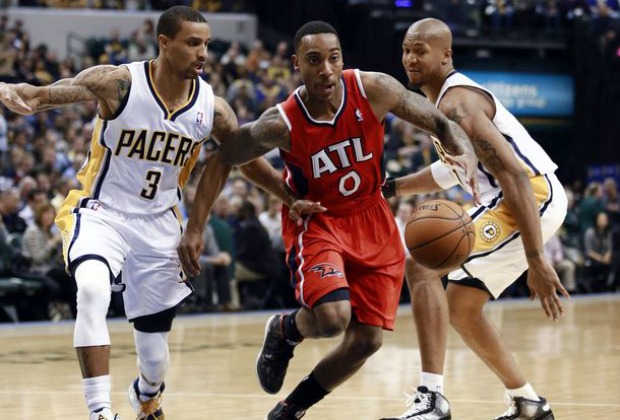 R. Brent Smith/AJC
The Hawks grabbed a 98-85 Game 3 win over Indiana Thursday night and will head into Game 4 with a 2-1 series lead. The two teams struggled scoring in the first half and Atlanta took a one-point edge into the intermission at 39-38. The second half was much more productive offensively and Atlanta lived at the foul line while knocking down back-breaking three-pointers to fuel a 59-47 scoring advantage. Five Hawks players finished in double-figures and the team finished the game shooting 30-of-37 from the foul line.
The biggest play of the second half came on a Jeff Teague running three-pointer with 2:48 to play. Teague's desperation heave as the shot clock expired gave Atlanta a 78-87 lead. The play was reviewed after Lance Stephenson made a lay-up with 2:26 remaining to cut the lead to 84-78. During the review, the officials checked to see if Teague stepped out of bounds on the play. An overruling would have wiped off the three points and given the Pacers life with 2:26 to play and just a three-point deficit. Instead, the play stood and Teague was able to step out of bounds without the ball and come back in before drilling the three. Teague hit two free throws the next possession and Kyle Korver added a three-pointer with 1:42 remaining to give Atlanta a 12-point lead (92-80).
Atlanta shot 34 three pointers and made 12-of-34 attempts. 10 of the 12 made threes came in the second half.
"The difference in the second half was giving up 10 threes," said Pacers head coach Vogel. "And obviously letting a team go to the line 37 times."
Offensively, Pacers' center Roy Hibbert was held scoreless in the first half and finished with four points and just two rebounds.
"We have to do a better job of creating shots for ourselves. We got to share the basketball better we have to execute better and we have to have the confidence to step up and make the good looks we're getting."
Teague led all scorers with 22 points and notched a double-double with 10 assists.