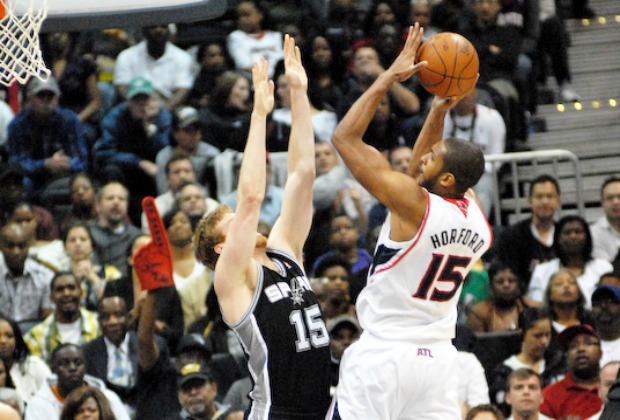 Jon Barash
Just when you thought the month of January could not get any worse for the Atlanta Hawks, it did exactly that last weekend. Heading into last Friday night's road game at Brooklyn, the Hawks were already saddled with a 3-6 record to begin the 2013 part of their schedule and Josh Smith had just been suspended one game for conduct detrimental to the team. Then came the Nets game, when super sixth man Lou Williams suffered a torn ACL in his right knee during a 94-89 loss.
"You hate to see it happen," head coach Larry Drew told the Atlanta Journal Constitution on Saturday after an MRI confirmed his worst fears. "You wish for a fast and speedy recovery, but we have to conduct business as usual and we have to move on. We have to get somebody in that locker room that is going to have to step up. Any time one of your soldiers is down somebody else has to pick it up. I have confidence that that will happen."
"I just pray for him," point guard Jeff Teague added to the AJC. "Hopefully it's a speedy recovery. It is tough losing a guy like that coming off the bench and getting points in bunches. He's just a good guy all around, a good player, a good friend, someone I enjoy playing with."
In response to Williams' season-ending injury, the Hawks signed familiar face Jannero Pargo to a 10-day contract. Pargo, who played for Atlanta last year, promptly poured in 14 fourth-quarter points on four three-pointers to lead the Hawks past visiting Minnesota, 104-96, on Monday afternoon. Rookie shooting guard John Jenkins is also expected to see an increased role to fill the void left by Williams.
DOWN BUT NOT OUT …
It was a much-needed win for the home team, which had lost two in a row and four of its last five. Even with the victory, Atlanta is still a disappointing 4-8 in January (by comparison, Drew's crew compiled a 10-5 record in December). Of course, it could be even worse for the Hawks. They are getting plenty of help from the Eastern Conference, in which nobody is pulling away. No team has more than 26 wins (Miami is 26-12), whereas in the Western Conference, three teams have at least 32 victories. Atlanta is sixth in the East, only 4.5 games out of first and six games inside the playoff cut line.
The Hawks paid a visit to Charlotte last night, picking up a 104-92 victory. After hosting Boston tomorrow, they travel for a tough road game at the Knicks on Sunday.