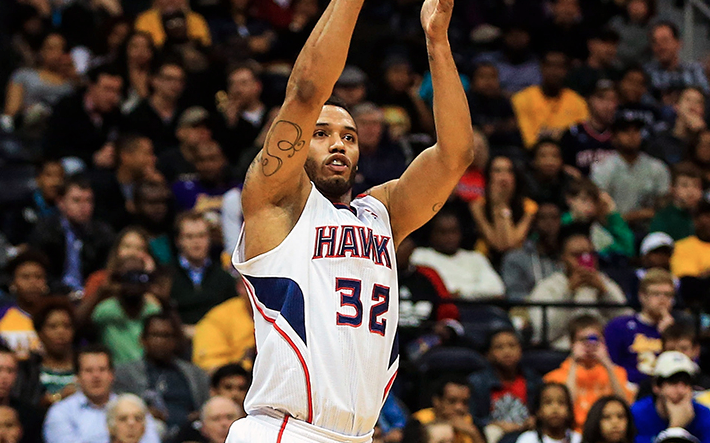 Photo by Daniel Shirley
The wheels are turning for the Hawks as the countdown to the regular-season opener begins. Atlanta played its first game of the preseason on Monday, when they defeated the New Orleans Pelicans 93-87 at Philips Arena. Guard John Jenkins scored a team-high 13 points, which included a three-pointer with less than two minutes remaining that killed any momentum for a Pelicans' comeback. Second-year center Mike Muscala recorded a double-double with 10 points and 10 rebounds while adding two blocked shots.
ANALYZE THIS …
According to Atlanta Journal Constitution's Chris Vivlamore, Hawks' officials have had high hopes for the 6-foot-11 Muscala in terms of his development as the center from Bucknell enters his second year in the league. One of the reasons for the optimism is the result of Muscala's analytics score for the team. In the technologically-savvy age that the sports industry has entered, NBA teams have resorted to complex formulas that break down all aspects of a player's production, from shooting to distance run during a game. Muscala was graded as the top analytical player in the 2013 draft by one NBA team, while the Hawks had him in their top 10.
"I think a lot of teams, maybe, didn't value the analytics or thought they weren't as legitimate as if I were at a bigger school, which is reasonable playing against lower competition," Muscala explained. In 20 career NBA games, he has averaged 3.8 points and 2.6 rebounds in 10.7 minutes.
TEACHING PAYNE …
When topic of improvements in Adreian Payne's game was presented to head coach Mike Budenholzer, he felt that rookie forward's largest focus should be on the defensive side of the ball.
"Defensively, his awareness is where we need him to improve," said the second-year coach. "I think understanding how the ball can move and how he can be a facilitator and under- standing spacing and where the shooters are."
Vivlamore highlighted a Hawks' roster featuring the likes of veteran Al Horford, Paul Millsap, among other big men who may find themselves filling a mentor role to aid Payne's progression. The first pick for the Hawks in the 2014 draft is coming off of a six-game stint in the NBA's Las Vegas Summer League, where he averaged 12.5 points and seven rebounds per outing.