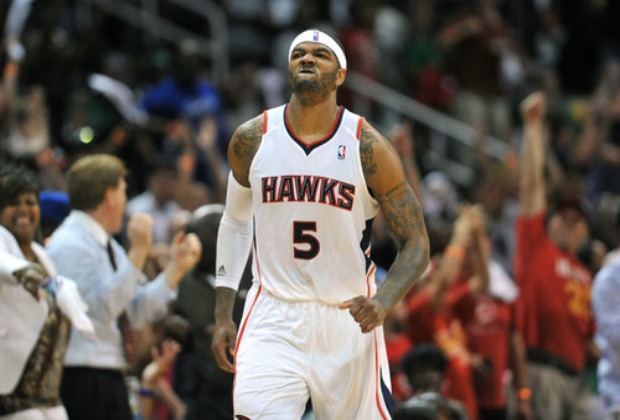 Hyosub Shin/AJC
The Atlanta Hawks Summer League squad finished up their five game schedule with a 2-3 record. While the record is relatively meaningless, the Hawks were able to learn a lot about their young players. The highest profile player on the Hawks roster was No. 23 overall selection John Jenkins from Vanderbilt.
Jenkins was one of the top shooters in the draft and was expected to come in and help improve the Hawks bench shooting. As is always a concern with shooting specialists coming out of college, Jenkins had to show that he can adapt to the longer NBA three-point line. Jenkins shot lights out in Las Vegas, going 8-for-18 (44.4%) from behind the arc and 32-for-63 (50.8%) from the field over the five games while averaging 15.6 points per game. He answered all of the ridiculous questions about his ability to get his shot up consistently, showing off a quick trigger and the ability to come off curl screens and knock down contested jumpers.
While the adjustment to the NBA three-point arc seemed to be an easy transition for Jenkins, something he will have to continue to work on is his defensive prowess. His foot speed and agility appears to have improved just from the eye-test since his days at Vanderbilt, but he will have to get used to fighting off picks. Playing at the two-guard spot, Jenkins will face more down-screens and baseline picks in the eight games against the Magic, with J.J. Redick, and the Heat, with new addition Ray Allen, than he probably ever did in a single season at Vanderbilt. Jenkins' development on the defensive end will be the biggest factor in whether he becomes more than a great shooter off the bench and possibly even an everyday starter in the NBA.
The other Hawks draft pick, Mike Scott of Virginia, also impressed in the desert. Scott answered questions about his size and ability to play the four spot by pounding the glass with a DeJuan Blair-like ferocity. Scott averaged 6.8 boards per game to go along with his 10 points in the five contests. As the saying goes, you have to get six of something, and Scott showed that even in games when his shooting is off, like against the Spurs when he went 2-for-11, he was able to impact the game in different ways grabbing eight rebounds.
Offensively, his stature seemed to have a bit of an impact on his effectiveness in the post, and he will have to become more of a craftsman down low and develop better technique to overcome his size disadvantage. His mid-range game is undeniable and that will allow him to negate any size issues he may face on the offensive end. Scott's performance showed that he can be a great "motor guy" off the bench that will hustle constantly and be an energy booster.
While the two draft picks had pretty well sewn up roster spots prior to Summer League play, there were a number of players vying for training camp invites. PF/C Keith Benson was in his second stint on the Hawks Summer League roster and was very impressive, especially early on. Benson averaged 13.2 points per game, including 20-point and 19-point performances in the first two games. Benson also shined defensively, recording 2.2 blocks per game and pulling down six rebounds per game. With Jason Collins heading to the Celtics, there is less depth than normal on the Hawks bench at center behind Al Horford and Zaza Pachulia. Benson could get a real chance to make the squad during September's training camp.
Brad Wanamaker from Pittsburgh started strong in his first two games of the Summer League season, averaging 11 points and seven assists, but his production slipped in the final three games. He never topped six points or three assists, albeit in more limited minutes. Wanamaker will likely be brought into camp, but it would be highly unlikely that he can earn himself a spot on a Hawks roster that is now full of guards. He had a tendency to force things offensively which led him to 3.6 turnovers per game, including a dismal four-turnover, one-point performance in eight minutes against the Mavs.