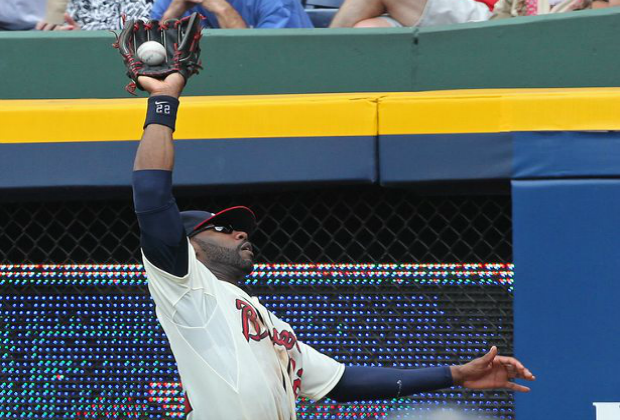 Curtis Compton/AJC
While most Braves fans will remember the team throwing the ball around three times in the NL Wild Card playoff game, Atlanta's defense was stellar in 2012 and four players were finalists for Gold Glove Awards this year. Braves first baseman Freddie Freeman was up for the honor as were all three starting outfielders Martin Prado, Jason Heyward and Michael Bourn. The Braves had the second-most finalists in the National League behind Cincinnati's six.
Heyward won the Gold Glove for National League right fielders, becoming the first Brave since 2007 to claim the defensive honor. Andruw Jones and Jeff Francoeur each brought home the honor that season. Heyward was also recently recognized as the 2012 Fielding Bible Award winner as the best defensive right fielder in baseball based on statistical analysis. His range factor over nine innings and over games was higher than the league average and he committed just five errors in 347 chances.
Prado played multiple positions this year, but made 111 starts in left field, so MLB put him up for the award at that position. Prado also made 20 starts at third base, filling in for Chipper Jones, 11 starts at shortstop, eight at second and four at first. He committed just four errors all season long with nine assists from the outfield. Bourn won a pair of Gold Gloves with Houston in 2009 and 2010. He had just two errors in 388 chances and sported a .995 fielding percentage, dwarfing the league average of .989. Freeman posted a fielding percentage of .991 while committing 12 errors in 1381 chances. He posted 74 assists and turned 122 double-plays. His range factor per nine innings and range factor per game were better than the league averages.
TEST THE MARKET
The Atlanta Braves could potentially lose nine free agents this offseason as 10 players from the roster saw their contracts officially end at the conclusion of the World Series. Bourn, Jeff Baker, Miguel Batista, Matt Diaz, Chad Durbin, Eric Hinske, Reed Johnson, Lyle Overbay, Ben Sheets and David Ross all became free agents Monday morning and can begin negotiating and signing at 12:01 a.m. Saturday. Atlanta will likely try to bring back Ross and will probably bring back Johnson, an acquisition at last July's trade deadline. Sheets previously announced his retirement.
Tim Hudson, Paul Maholm, Brian McCann were all brought back for 2013 as the team picked up each player's option Tuesday. Hudson, Maholm and McCann will cost a combined $27.5M to bring back.