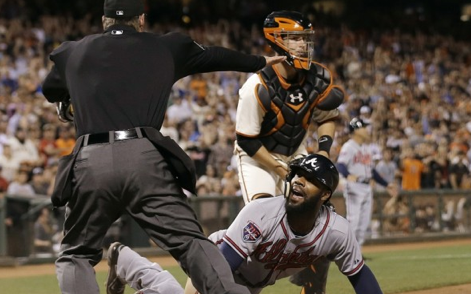 Photo by Ed Hickox
Major League Baseball players Jason Heyward, Jeff Francoeur and Hall of Famer Frank Thomas all have one thing in common: they were Georgia state champions in high school. The GHSA has grown some of the best talent in baseball over the years and with this season's batch some of the game's future stars may still be in the hunt fora high school title of their own. Frank Thomas has been the most decorated player to come out of the GHSA with a ring.
The Big Hurt was inducted to the Hall of Fame in 2014 after slugging 521 home runs and batting.301 with three different teams over his19-year career. Thomas was a standout at Columbus High School and batted cleanup for the 1984 state champion-ship team. At 6-foot-5, Thomas was not only a star on the diamond where he hit .440 as a senior, but he was also a
All-State selection as a tight end in football and played on the basketball team. Jeff Francoeur had similar success at the high school level in multiple sports. Frenchy cemented himself as a legend at Parkview High School in Lilburn, Georgia. He was an All-State defensive back, but his passion lied with baseball. Francoeur anchored the Panthers on their way to state championships in 2001 and 2002. As a junior he hit .500 with 20 home runs, but it was his senior year when he truly became a folk hero with his heroics in the AAAAA championship. Francoeur crushed two home runs in his final two games, both which broke late-innings ties before he would come on to close each game on the mound. In his last prep game, Francoeur blasted two homers, including a grand slam, to blow the game open and secure Parkview's second-straight title.
HEYWARD-POSEY RIVALRY …
The most recent prospect to have won a state championship and now star in the majors is Jason Heyward. In the 2005 Class AAAAA state finals,Heyward and his Henry County team met future NL MVP and three-timeWorld Series champion Buster Posey. Henry County would defeat Lee County. Though Heyward may have won the championship, Posey was a star of his own at both the plate and on the mound during his senior year, batting.462 with a school record 14 homers while going a perfect 12-0 with a 1.06
ERA and 108 strikeouts. There is no shortage of talent remaining in this year's field. ClassAAAAAA's championship features some highly touted prospects out of Parkview: Austin Biggar (UGA), Daino Deas (Auburn) and Will Ethridge (Mississippi). Biggar is a junior catcher who leads the Panthers in RBIs with 44. Deas has been slick in the field and at the plate while compiling a team-high batting average of .431. Ethridge has been lights out with a 1.52 ERA and a perfect 12-0 record his junior season.
The Buford Wolves have dominated Class AAAA thanks to a roster loaded with high-major players. Brothers Nick and Austin Wilhite are juniors who have both pledged to play at Georgia Tech.Buford's battery is highlighted by catcher Joey Bart (GT), right-hander Connor Bennett (WVU) and lefties Jake Higginbotham (Clemson) and Justin Glover (UGA), all whom are likely to hear their names called in the MLB Draft some-time during their playing careers. Jahmai Jones highlights Class AA's Wesleyan Wolves. The UNC-signee has played second base and also in the outfield and displays quick hands to turn on balls. He is already a plus-fielder with a bat that should advance him through the minors quickly. Wesleyan seeks its fourth-ever title as they play Darlington this weekend.