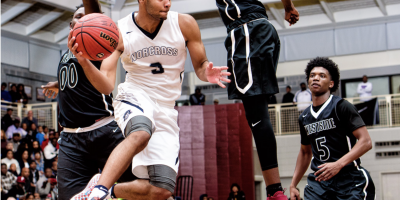 Here is a look at the results from Friday's holiday basketball tournaments around the state with updates from schools competing in national events:
Peach State Holiday Classic at Clayton State: Eagle's Landing Christian's boys defeated Mundy's Mill 62-56 after taking a 17-13 lead in the first quarter. Morrow responded with a 17-9 run through the second quarter but North Clayton's 36-point second half put the game away.
For the girls, Southwest DeKalb beat Whitewater after trailing 8-7 following the first quarter. The Lady Panthers took control of the game with an 18-9 run in the second quarter to carry a 25-17 lead into the locker room. Whitewater answered with an 11-7 run in the third quarter but Southwest Dekalb's 15 points in the fourth quarter kept Whitewater at bay. Westlake's girls defeated DouglasCounty 57-35 behind an 11-point, six assist and six rebound performance from Raven Johnson, a 5-8 point guard. Amari Robinson led DouglasCounty with 12 points and seven rebounds.
War Lodge Classic at Sequoyah: For the girls, Collins Hill defeated MorganCounty 54-48 despite a 15-point effort from Lou Reid and a 14-point performance from Tamia Benford.
War Eagle Classic at Woodward: On the boys side, Ryan Mutumbo led Lovett past Whitewater in overtime 59-56. Mutumbo, a 6-foot-9 power forward, scored 11 points and blocked eight shots. Nick Jackson, a 6-1 senior forward, added 15 points. Lance Beck, a 6-2 senior guard, scored 10 points. LaGrange defeated Elite Scholars 77-49. In another boys' game, Towers beat Mary Persons 96-85 behind a 26-point effort from Khalil White. For the girls, Starr's Mill beat Lovett 69-54. Forest Park took down  UniversitySchool 63-36 and LaGrange defeated Cedar Grove 46-42. Sparkman, from Alabama,  beat Woodward 62-16.
Cleveland Stroud Tournament at Rockdale High School: North Clayton beat Morrow 63-56 to earn a berth in the consolation championship on Saturday. Jermaine Lattimore led with 15 points. Derrius Martin added 14 points and Jamoryian scored 10 points. Onuma Dieke (9 points) and XavierValley (8 points) were the other high-scorers.
Savannah Holiday Classic at Johnson-Savannah: Woodville-Tompkins defeated WindsorForest 75-50 in the Crawford Square bracket. Preston Crips led with 22 points, Charleston Willingham added 19 points and Bernard Pelote and Deante Green each scored 15 points. For the girls, Glynn Academy handed hosting Johnson-Savannah a 68-64 defeat behind a 27-point performance from Zoesha Smith and a 26 point-effort from Chmyia Miller. In another girls' game, Richmond Hill defeated New Hampstead 64-31.
State Bank Holiday Classic at Jones County: Northside-Warner Robins defeated John Milledge 66-52 after taking a 21-13 lead after the first quarter. The Eagles added 22 more points in the second to enjoy a 43-31 at the half. The teams each added eight points in the third quarter before Northside made a 15-13 run in the fourth quarter.
Bear Brawl at Houston County: For the boys, Rutland bested PeachCounty 86-61. Jeff Davis beat Perry 83-80. For the girls, PeachCounty beat WheelerCounty 48-43. HoustonCounty defeated Jeff Davis 44-29.
In other events for boys: Wheeler led wire-to-wire to beat Bishop O'Connell 72-56 led by Charles Smith IV's 22-point, three rebound and three steal performance … Class AAA No. 2 Morgan County defeated HollySprings, N.C. in the Palmetto Winter Classic in Columbia, S.C. despite being down 19-18 at the end of the first quarter. Morgan County took control in the second and third quarters while outscoring Holly Springs 34-15 and then held on through a 24-8 Golden Hawks run in the fourth quarter before time ran out … Cherokee defeated Cass (67-50) in the Rockmart Christmas Tournament … Silver Bluff, S.C. defeated Washington County 64-57 in Savannah River Christmas Tournament … Heritage-Newnan lost to Carmel Christian 72-58 in the Emerald Coast 16 Holiday Classic in Niceville, Fla… Conway, S.C. bested East Hall 80-59 in the CarolinaForest Invitational… Lakeview-Fort Oglethorpe defeated Heritage-Ringgold 63-54 in the North Murray Christmas Tournament … Atlanta International beat Providence Christian 42-38 in the Storm Classic at Providence Christian … In the Lakeview Invitational, Lakeview Academy beat Flowery Branch 69-49. Adam Cottrell led Lakeview with 28 points, five rebounds and five steals. Arturo Varela added 16 points and six rebounds. Blake McIntyre scored nine points and Conley Millwood and K.J. Millwood each scored seven points.
In other events for girls: St. Francis fell to Miami in the CresCom Bank Invitational in Myrtle Beach, S.C. 65-51 … Lakeside-Dekalb defeated Lakeview 52-49 in the championship game of the Storm Classic at Providence Christian … River Ridge was in competition in the North Bay Haven Charter Tournament in Panama City Beach where it defeated Chiles, Fla. 49-28 on the back of a 20-7 run in the second quarter … Heritage-Ringgold beat Red Bank, Tenn. 50-46 in the Chatt-town Classic in Chattanooga …  Oxbridge Academy bested Harris County 58-37 in the CresCom Bank Invitational in Myrtle Beach, S.C … Lee County fell to Auburn, Ala. in the Hoover Big Orange Tournament in Hoover, Ala. 57-48 … Henry County beat Grissom, Ala. 63-31 in the Lady AL.com Classic at James Clemons High in Madison, Ala.