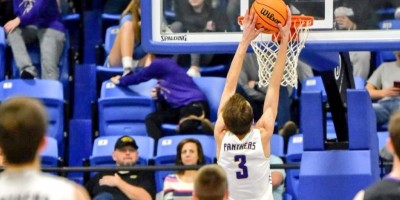 Todd Forrest/@hotrodtodd25
Holiday Basketball tournaments continued on Friday before champions are crowned in a marathon schedule of games on Saturday. Here's a look at what took place on Friday.
Tournament of Champions at Wheeler: A schedule of 16 games across two gyms greeted fans at Wheeler High School on Friday. In the first game, Hapeville Charter beat Starr's Mill 69-67. In Game 2, Dutchtown beat Tucker 73-72 behind a game-winning basket from Cam Bryant. In Game 3, Towers defeated Savannah County Day 57-56 after a buzzer-beating 3-pointer from Marqua Owens. In the third game, Pebblebrook defeated Westside-Macon 78-46. Discovery beat Cedar Grove in the fourth game of the day 67-57. In Game 5, South Cobb defeated Chattahoochee 85-75. Lanier defeated Miller Grove 58-55 in the sixth game and Sion James led with 26 points for the Longhorns. In Game 7, hosting Wheeler beat Kell 75-71 in overtime and Ja'Hiem Hudson led with 26 points and seven rebounds. Trinity Christian beat Meadowcreek 70-69 in Game 8 and Kendall Campbell finished with 22 points and nine rebounds to lead the Mustangs. In Game 9, Grayson beat Lithonia 87-66 behind a 24-point performance from Toneari Lane, a 21-point effort from Ian Schiefflin and 18 points from Caleb Murphy. In Game 10, Archer defeated Lambert 76-50 and Brent Smith helped with 19 points and eight rebounds. In Game 11, Shiloh outlasted East Coweta 73-71 and Caleb Golden's 20 points, five rebounds and four assists led Shiloh. In Game 12, Victory Christian defeated Heritage 69-44. In Game 13, McEachern beat John Marshall, Va. 70-69 and Sharife Cooper's game-winning free-throw sealed it. Greenforest defeated Peachtree Ridge 75-65 in the final game of the day and Lamar Oden led with 20 points and seven rebounds.
Lanierland at Cherokee Bluff: The 60th Annual Lanierland Tournament began on Friday with Lakeview Academy's girls defeating Chestatee 52-51 on a buzzer-beating 3-pointer by Joelle Snyder. In the second game of the day, the hosting Cherokee Bluff boys defeated North Hall 62-48. The girls from Cherokee Bluff defeated Gainesville 57-45 after leading 36-33 entering the fourth quarter. Johnson-Gainesville's boys secured a 61-60 victory over Lakeview Academy with Jesse Harbin's free throws with two seconds left. West Hall's defeated East Hall 56-52 in overtime after ending regulation tied at 50. Flowery Branch's girls were not challenged in a 55-24 victory over West Hall.
Chuck Miller Classic at McDonough: Day 2 of the Chuck Miller Classic began with a pair of boys and girls consolation matchups and then closed the back half of its eight-game schedule with its two boys and two girls championship bracket matchups. In the first consolation bracket contest, the KIPP Atlanta girls took a 13-11 lead after the first quarter, but Jackson outscored them 41-25 in the next three quarters and closed out a 52-38 win. The Mundy's Mill boys were next up and they faced a Hampton team that defeated them 68-66 back on Nov. 15. Fridays meeting, however, was all Tigers as Mundy's Mill avenged last month's loss with a 59-39 victory. Junior Jocobi Barnes (12 points) and seniors Christopher Lango (10 points) and Mason Pierre each finished in double-figures.
The Creekside and Carver-Atlanta girls met in the consolation bracket and the Seminoles held on for a 45-44 win over Carver. Khalia Woolfolk finished with a game-high 26 points to go with four rebounds and three assists. Erika Johnson added eight points and four rebounds, Rayven Jackson contributed seven points and Deavian Pitt scored three points and a team-high 10 rebounds in the winning effort.
Big South Shootout at Holy Innocents': On opening day of the Big South Shootout, the North Clayton boys narrowly defeated South Gwinnett 46-41 to advance into the second round. Jermaine Lattimore racked up 12 points for the Eagles while Onuma Dieke scored 10 points and snagged 10 rebounds. Xavier Valley finished with a team high 16 points. The Morrow Mustangs narrowly defeated Wesleyan 64-62 in large part to a stellar performance from Khari Morgan. The senior finished with 21 points including 4 three-pointers.
For the girls, Wesleyan cruised past Chattahoochee with a strong 62-14 victory. Junior Alyssa Phillips led the team with 14 points and five rebounds while Lauren Hill scored 12 points and Avyonce Carter scored 11. Woodville-Tompkins bested North Clayton 53-48 on the back of 14 points from Jaida Grayson. Junior Kara Lofton was next in line with 8 points to help the Wolverines advance.
Round Ball Classic at Josey (Augusta): In day 2 of this annual holiday tournament, the Hephzibah boys team put up another strong outing against Glenn Hills to secure a spot in the championship game. The Rebels jumped ahead early in the first quarter, outscoring Glenn Hills 25-6. The Spartans played Hephzibah closer in the second, putting up 13 points to the Rebels 14, but ultimately were unable to overcome the deficit made in the first and fell 73-56. For the girls, Josey advanced into the finals following its victory over out-of-state opponent Aiken.
Battle of the States at Towns: In the semifinals of the girls tournament, North Carolina program Murphy defeated Union County 63-39. The Lumpkin County girls will play for third place tomorrow after a 59-30 victory over Walhalla, SC. The hosting Towns County girls lost 49-42 to Haynesville NC and will play a consolation game on Saturday. On the boys side, Union County defeated Lumpkin County 64-61 and will play Towns County, which beat Haynesville 67-64 in the semifinals.
Christmas Classic at Mary Persons: The 5th Annual Classic got underway on Friday and will resume on Saturday before crowning its championships this Monday. Druid Hills opened the event with a 57-46 win over Perry and Jaden Lingo dazzled with a 23-point performance to set the tone.
See the rest of the scores below.
Boys
Arabia Mountain 68, Luella 54
Banks County 69, Seminole County 64
Bowdon 65, Central Clay Co AL 56
Buford 66, Arnold FL 43
Calvary Day 57, Portal 54
Camden County 65, Southeast Bulloch 62
Carver-Atlanta 50, Lake Region FL 44
Cedar Shoals 78, Northwestern FL 42
Cherokee Bluff 62, North Hall 48
Cross Creek 92, Bethlehem Christian 43
Discovery 67, Cedar Grove 57
Douglass 51, Model 47
Druid Hills 57, Perry 46
Dutchtown 73, Tucker 72
First Presbyterian 82, Strong Rock Christian 34
Fitzgerald 62, Marietta 52
Fox Creek SC 0, Locust Grove 0
Glynn Academy 50, Tattnall County 38
Good Hope AL 71, North Murray 62
Greenbrier 57, Hiram 50
Greene County 78, Silver Bluff S.C. 64
Groves 69, Georgia Military 65
Grovetown 59, Washington County 51
Handley AL 57, Central Gwinnett 54
Hapeville Charter 69, Starr's Mill 67
Heritage-Conyers 77, Baldwin 70
Jackson-Atlanta 65, Burke County 54
Jefferson County 67, Savannah 57
Johns Creek 60, Metrolina Christ. NC 55
Johnson-Gainesville 61, Lakeview Academy 60
LaFayette 87, Madison County 62
Lassiter 51, Sonoraville 50
Liberty County 64, Camp Jewell House 62
Lincoln County 45, Josey 40
Lincoln County 45, Josey 40
Lincoln FL 65, Brunswick 49
Long County 70, Calhoun Falls SC 30
Lovejoy 61, Dacula 55
McIntosh 62, Drew Charter 59
Morrow 64, Wesleyan 62
Mundy's Mill 59, Hampton 39
Newnan 70, W.D. Mohammed 33
Newton 85, Brewbaker Tech AL 65
North Clayton 46, South Gwinnett 41
Oconee County 80, George Walton Academy 31
Pebblebrook 78, Westside-Macon 46
Pickens 68, Excel Christian 5
Providence Day NC 73, West Forsyth 64
Roswell 45, Langston Hughes 40
South Cobb 85, Chattahoochee 75
Spalding 65, Flint River Academy 31
Trinity Christian 70, Meadowcreek 69
Union County 64, Lumpkin County 61
Veterans 63, Monticello 46
Walker 74, Cartersville 71
West Orange FL 78, Clarke Central 41
Westminster 70, Etowah 67
Westminster Cat. SC 65, Lakeside-DeKalb 45
Woodmont SC 65, Madison County 58
Girls
Alcovy 50, Hapeville Charter 39
Calhoun 69, Boyd-Buchanan 54
Cass 66, LaFayette 52
Cedar Shoals 58, Belton-Honea SC 24
Cedartown 50, Bowdon 49
Centennial 32, Walton 28
Chattooga 66, Chattanooga Cent. TN 48
Christian Heritage 61, Collegedale Aca. TN 22
Clinch County 49, Terrell County 16
Clover SC 56, Lee County 48
Collins Hill 58, M. L. King 30
Columbia 38, Sandy Creek 21
Creekside 45, Carver-Atlanta 44
Cumberland County TN 66, Roswell 65
Eagle's Landing Christian 64, Stratford Academy 61
East Laurens 46, Fitzgerald 30
First Presbyterian 39, Strong Rock Christian 28
Galloway School 58, Battle Ground TN 39
Georgia Military 48, Groves 30
Glynn Academy 52, Winter Haven FL 43
Hayesville, NC 49, Towns County 42
Hephzibah 47, Richmond Academy 35
Hillgrove 56, Wheeler 48
Hoover, AL 61, Forest Park 40
Jackson 52, KIPP Atlanta Charter 38
Jefferson 68, North Murray 29
Kennesaw Mountain 48, Lassiter 45
Lambert 53, Jackson County 47
Lumpkin County 59, Walhalla SC 30
Marietta 64, Allatoona 26
Murphy NC 63, Union County 35
North Cobb 50, Carrollton 48
Pickens 76, Murray County 60
Pierce County 53, River Ridge 46
Rockdale County 53, Grovetown 47
St. Cecilia Aca. TN 51, Prince Avenue 42
Taylor County 65, Irwin County 44
Trinity Christian 70, Monterey TN 45
Valdosta 59, Leon FL 33
Washington County 61, Tattnall County 36