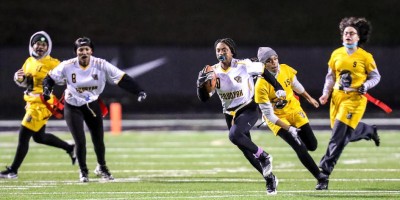 The Home Depot Backyard, adjacent to Mercedes-Benz Stadium, will host the 2020 Semifinal Round of the 2020 GHSA Girls Flag Football state playoffs on Wednesday, Dec. 23. This is the first year that flag football became an official sanctioned sport—making Georgia just the fourth state in the state to do so. The Atlanta Falcons helped pilot this mission and more than 100 different schools fielded teams this season to be part of the inaugural campaign.
The Class 6A-7A semifinals will stage two intriguing matchups. On the left side of the bracket, No. 4 seed Hillgrove will take on an Allatoona team that has outscored its three playoff opponents by a combined 55-0. Across the bracket, Area 5 rivals South Forsyth and West Forsyth will face off for a shot at the finals—which will be played on Monday, Dec. 28 at Center Parc Stadium.
In the Class A-5A semifinals, Calvary Day and Northside-Columbus will be squaring off. Both teams posted shutouts in the quarterfinals, with Calvary Day topping Harris County 6-0 and Northside scoring a 12-0 win over Richmond Hill. Across the bracket, Portal will play Greenbrier with a shot to advance to the championship. Portal advanced past Columbus in the quarterfinals following a forfeit and Greenbrier defeated Dodge County 14-6.
GAME TIMES:
12 Noon – Allatoona vs. Hillgrove (6A-7A)
1:30 PM – Calvary Day vs. Northside-Columbus (A-5A)
3:00 PM – South Forsyth vs. West Forsyth (6A-7A)
4:30 PM – Portal vs. Greenbrier (A-5A)
Playoff Brackets
ADMISSION:
Media: Must RSVP to Amanda Dinkel, ADinkel@falcons.nfl.com
Public: $12.00 ONLY available through GoFan Digital
How Fans Buy Tickets
PARKING: Mercedes-Benz Lot on Northside Drive